What is Cap and Trade?
The California Global Warming Solutions Act of 2006, AB 32, is a multi-year program to reduce Greenhouse Gas (GHG) emissions in California to 1990 levels by 2020. One key strategy to achieve this goal is a 'cap and trade' market system. The 'cap' creates a limit on carbon dioxide equivalent emissions, while a corresponding number of allowances within the cap can be 'traded.' The allowances are purchased by utilities and businesses at quarterly auctions. Over time, as the cap lowers, businesses that aggressively reduce emissions can trade their surplus allowances to firms that find it more expensive to reduce emissions.
The auction proceeds are then used to further the goals of AB 32. Cap and trade auctions began in November 2012. The majority of auction proceeds are required by the California Public Utilities Commission (PUC) to benefit ratepayers of investor owned utilities. The smaller 'state portion' of auction proceeds is deposited into the Greenhouse Gas Reduction Fund (GGRF). GGRF investments are primarily targeted at clean transportation and sustainable community plans, corresponding with the impact transportation has on GHG emissions. Improvements to energy efficiency and natural resources management also contribute, but at lesser levels than transportation oriented factors.

The sale of cap and trade allowances generates substantial revenue—estimated at between $2 and $3 billion per year – which is dedicated to further reducing GHG emissions and achieving other co-benefits such as pollution reduction, public health improvements, and economic growth. Revenue from cap and trade is allocated by the Legislature to a variety of programs many of which can be an important source of funding for local governments to achieve their sustainability goals. Approximately 60 percent of annual GGRF revenues have been "continuously appropriated" to a variety of state programs; the remaining 40 percent of revenues are subject to annual legislative appropriation through the state budget.
GHG and Disadvantaged Communities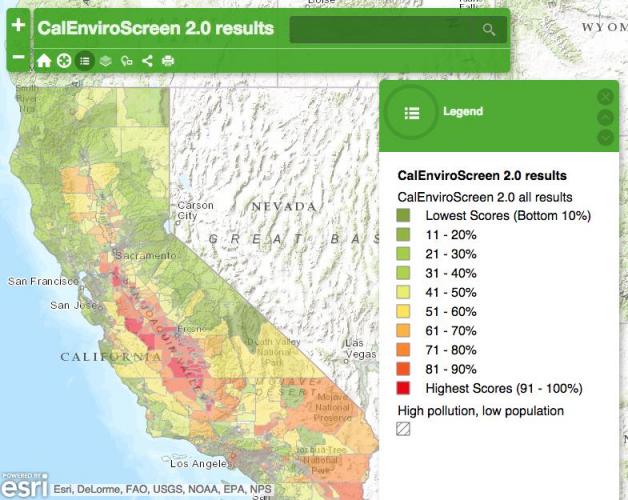 All cap and trade funding programs are required to reduce GHG emissions. Additionally, SB 535 (de León, Chapter 830, Statutes of 2012) requires that 25 percent of all non-utility cap and trade revenues be used to benefit disadvantaged communities (DAC), and 10 percent to be spent within the most disadvantaged. Individual cap and trade programs may exceed or be less than the 25% requirement for DACs, but on average the programs as a whole must meet the statewide requirement. The determination of DAC status is based on the CalEnviroScreen, a model administered by CalEPA that combines economic data with information on pollution and other environmental impacts
Related Links