New Public Poll on Local Taxes, Rate Increases & More – Informing Policy Decisions
Recorded Presentation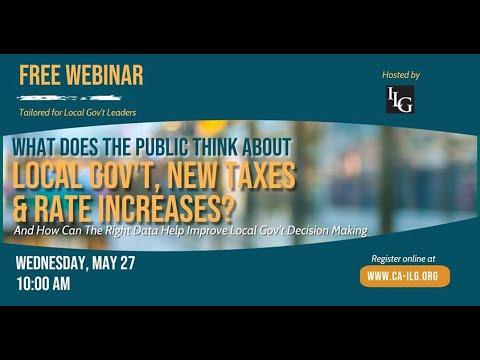 Materials
Presentation Deck for New Public Poll on Local Taxes, Rate Increases & More - Informing Policy Decisions
New Public Poll on Local Taxes, Rate Increases & More - Informing Policy Decisions
What does the public think about local government, new taxes, and rate increases? As budgets tighten because of COVID-19, local governments statewide are grappling with difficult decisions around which services to offer in light of decreased revenues. The right data can help take the guesswork out of revenue options, service delivery and prioritization. The Institute for Local Government (ILG) recently partnered with Probolsky Research on a statewide survey to provide insights about key priorities for essential services, revenue measures and engagement opportunities. We've also invited the City of Rancho Cucamonga to share their practical experience and lessons learned from using survey and other data to help make difficult decisions.
Panelists
Lori Sassoon, City of Rancho Cucamonga
Adam Probolsky, Probolsky Research
Melissa Kuehne, Institute for Local Government (Moderator)
Audience
This webinar is tailored for:
Elected officials at cities, counties and special districts
Agency staff at cities, counties and special districts
Sponsors
This is a free webinar, hosted by ILG in partnership with Probolsky Research.
We are grateful to our affiliate organizations — the League of California Cities, the California Special Districts Association and the California State Association of Counties — for their support of and participation in ILG's many training and education activities.