Tackling California's Housing Crisis Webinar Series
Strategies and Tools for Local Governments
Post
Webinar Series | April - October 2021
Series Overview
California's housing crisis is growing. To help city and county leaders better navigate complex housing issues in their communities, ILG is hosting a webinar series featuring subject matter experts on land use and housing, legal regulations and parameters and community engagement. This series will provide information and best practices, facilitate discussion and answer questions to help local governments better address housing issues in our communities.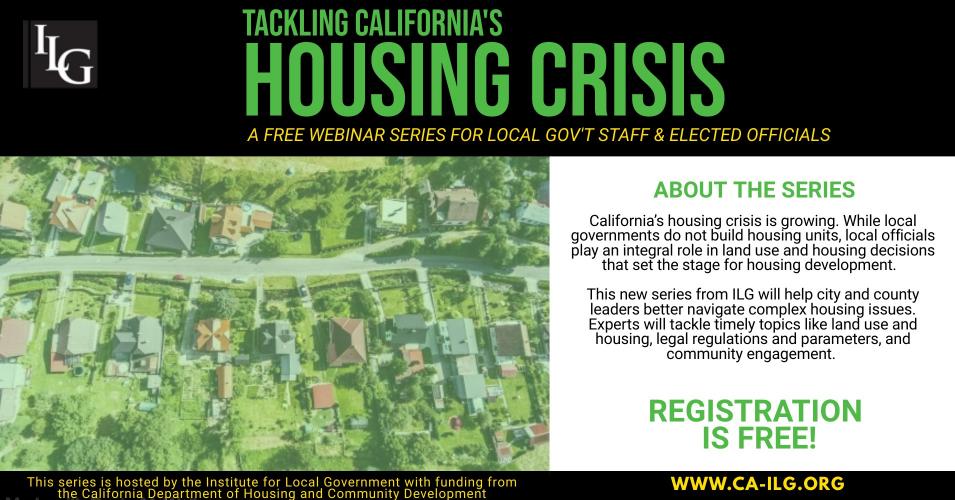 Webinar Schedule
Sessions take place the first Thursday of every month from 2:00pm, April through October 2021.
Select a session below to register.
April 1 | Exploring New Housing Laws and Ordinances
State laws and regulations pertaining to land use, housing and development are complex and ever changing. Join ILG and the Department of Housing and Community Development to hear an update on current housing laws and proposed legislation that will impact local housing development.
Access the recording and slide deck here.
May 6 | Rental and Mortgage Assistance, Tenant Protection and Other Tools to Support Residents During the COVID-19 Pandemic
The COVID-19 pandemic has adversely impacted economic opportunity and the ability for California residents (many of whom were already burdened) to afford housing costs. While the pandemic has created a number of challenges, local government have formed partnerships and explored unique strategies to help their residents stay housed. This webinar will share programs tactics local governments have put in place including rental assistance, tenant protection and anti-displacement practices.
Speakers:
Christine Viterelli, Grant Writer, City of Arvin
Heather Vaikona, President & CEO, Lift to Rise
Carrie Harmon, Assistant Director for the Riverside County Economic Development Agency
Maryann Leshin, Deputy Director Housing & Community Development, City of Oakland
Access the reccording and slide deck here.
June 3 | Effective Leadership in Housing and Development
More than half of renters in California and a third of homeowners are cost burdened – or spend more than a third of their income on housing. This webinar will provide an overview of California's housing crisis, the development process, barriers to more housing development and the basics of the regional housing needs assessment (RHNA) allocations and help local elected officials navigate their role in addressing the housing crisis.
Speakers:
Carolyn Coleman, Executive Director, League of California Cities
Graham Knaus, Executive Director, California State Association of Counties
John Hidahl, Supervisor, El Dorado County
Ma'Ayn Johnson, Housing Program Manager, Southern California Association of Governments & former Planning Commissioner, City of Fullerton
Cindy Silva, Councilmember, City of Walnut Creek
Access the slide deck and recording here.
July 1 | Equity and Housing: Meeting and Exceeding California's Fair Housing Requirements
California has a commitment to fair and equal housing. That commitment was reinforced by the passage of AB 686 requiring public agencies to administer housing and community development programs in a way that furthers fair housing. This webinar will provide an overview of the fair housing laws, strategies to implement/address these requirements and the interconnection between fair housing and larger socio-economic, equity and environmental justice issues.
Speakers:
Tyrone Buckley, Assistant Deputy Director of Fair Housing, Department of Housing and Community Development
Muhammad Alameldin, Economic Equity Fellow, The Greenlining Institute
Lori Droste, Councilmember, City of Berkeley
Isaac Rosen, Associate, Best Best & Kreiger
Access the recording and slide deck here.
August 5 | Strategies to Engage Your Community on Housing Issues
Authentic community engagement and well-designed community conversations can help quell a number of common community concerns related to housing development. While elected officials do not often plan and lead community engagement efforts, they play a critical role in understanding their residents' vision, concerns and needs. This webinar will share tips to effectively listen to and communicate with your community on housing topics.
Speakers:
Councilmember Ruben Abrica, City of East Palo Alto
Wendy Nowak, Principal, PlaceWorks
Delo Freitas, Senior Planner, City of Arcata
Access the recording and slide deck here.
September 2 | Climate-Resilient Land Use & Housing Policies
Well-planned communities can not only create vibrant, healthy and walkable communities, but planning policies and practices can also create more resilient communities that are able to withstand the growing threats of climate change. Hear from ILG and your local government colleagues about best practices and lessons learned to address climate resilience through local land use and housing policies.
Speakers:
Erik de Kok, Deputy Director, Planning & Community Development, Governor's Office of Planning and Research (OPR)
James Gore, Supervisor, Sonoma County
Eric Nelson, Planning Commissioner, City of Dana Point
Access the slide deck and recording here.
October 7 | Housing Strategies to Help Address the Homelessness Crisis
Over 150,000 Californians are experiencing homelessness. The COVID pandemic encouraged innovation and infused a significant amount of one-time dollars into cities and counties to help address this crisis. But what did local governments learn from this experience? Join ILG, HCD and your local government colleagues to hear about funding opportunities, strategies and lessons learned to implement housing strategies to make progress toward tackling California's homelessness crisis.
Speakers:
Megan Hunter, Community Development Director, City of Salinas
Lindsey Slama, Senior Homelessness Policy Specialist, Department of Housing and Community Development
Related Links