Public Participation in Local Government Decision Making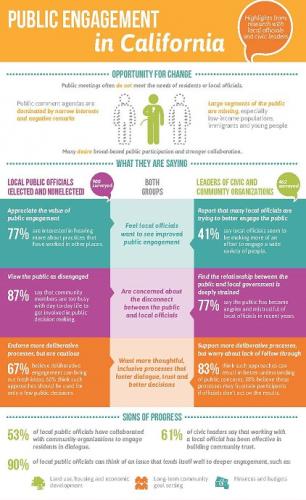 This comprehensive survey compares the perspectives of local government officials and community leaders on public participation in California. Both sectors share a concern for the disconnect between the public and local government decision-making, and both are seeking broader public engagement and stronger collaboration.
A printable infographic that highlights the research findings and recommendations along with the full reports and their companion executive summaries are available (to the right) for download.
A new California-based study reveals that many local officials desire broad-based public participation, but agree that most public meetings are dominated by "professional citizens" and organized interests that don't represent large segments of the public. Groups that local officials feel are harder to engage include residents with low income, immigrant communities and young adults.
Three quarters of public officials say that their meetings are dominated by people with narrow agendas. One of the study's interviewees shared: "We have the one issue people everywhere. What we don't have are the people that have an everyday sense of the whole community."
In the companion study of civic and community leaders throughout the state, three quarters say that local officials only pay attention to the most vocal interest groups. Nearly 77 percent say that the public has become angrier and more distrustful of local officials in recent years.
While both reports illustrate a frustration with the current status of public participation, both sectors expressed strong interest in engaging a broader cross-section of the public.
The research was conducted by Public Agenda in partnership with the Institute for Local Government and Davenport Institute for Public Engagement and Civic Leadership at Pepperdine University. We are deeply grateful to The James Irvine Foundation for sponsoring this research.
We will be further analyzing this comprehensive study and its implications for local governments and community partners. We welcome your questions, observations and feedback.