Special Beacon Award Meeting Held at 2011 League of California Cities Annual Conference
September 2011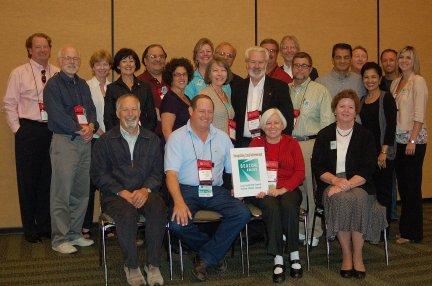 Over thirty city officials attended a special Beacon Award program meeting at the League of California Cities Annual Conference in San Francisco in September. The local officials gathered to share information about their agencies' best practice activities to reduce greenhouse gas emissions, save energy and promote sustainability as part of their participation in the Beacon Award: Local Leadership toward Solving Climate Change recognition program.
The highlight of the meeting was special recognition of eleven cities for their interim accomplishments while working toward one of the three Beacon Award levels. The eleven cities recognized for achievements in meeting one or more of the Beacon Award's best practices, energy efficiency or greenhouse gas reduction requirements are:
• Town of Apple Valley
• City of Chula Vista
• City of Palm Springs
• City of Palo Alto
• City of Pleasanton
• City of San Rafael
• City of Santa Barbara
• City of Santa Clarita
• City of Simi Valley
• City of South Gate
• City of Tulare
Visit each City's participant profile for more information on interim accomplishments.
The special meeting was moderated by Institute board of directors vice chair, Jim Keene, City Manager, Palo Alto. Representatives of Southern California Edison and Pacific Gas and Electric Company also participated.
The Beacon Award program is funded by California utility ratepayers and administered by Southern California Gas Company, San Diego Gas & Electric Company, Pacific Gas and Electric Company and Southern California Edison, under the auspices of the California Public Utilities Commission.
Related Links