The Role of Community Schools in Place-Based Initiatives: Collaborating for Student Success by William R. Potapchuk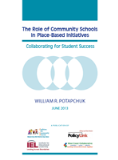 This 2013 report is co-published by the Coalition for Community Schools, Institute for Educational Leadership, PolicyLink, and the West Coast Collaborative.
Synopsis: Across the United States, communities are thinking differently about how to transform their schools and neighborhoods. There is tremendous excitement about strategies that weave together resources in a clearly defined "place" to collectively improve outcomes for children, youth, families, and communities.
The paper explores the relationship between various place-based strategies and the potential associated with the alignment of these strategies operating within the same geographic areas. The paper demonstrates that community schools offer a powerful vision and strategy for what schools should look like within broader place based initiatives and how community schools can benefit from alignment with other efforts.
Resources:
Webinar – Listen to members for the Community Schools Leadership Network discuss how community schools fit in the landscape of place-based initiatives and share strategies for aligning and partnering at the local level.
Mapping Place Based Strategies Report – The report maps outs cities with and the need for collaboration between community schools, promise neighborhood and choice neighborhoods. It also highlights accompanying partners and Institutes of Higher Education.
Related Links