Richmond Plans for a More Healthy Future
The City of Richmond used innovative methods to involve a diverse cross section of residents in updating its General Plan. The resulting plan is one of the first in the nation to include an element that addresses the link between public health and the built environment.
Community: City of Richmond (Contra Costa County)
Population: 102,769 (2010)
Summary
The City of Richmond successfully engaged hundreds of its diverse residents to create an updated general plan that includes an innovative Health and Wellness element aimed at boosting community health by improving the built environment. City planners partnered with community groups, the local school district, Contra Costa Health Services, The California Endowment, nonprofits, parents and consultants to design, fund, and implement a creative and inclusive public engagement process.
This multifaceted approach included community meetings, resident advisory groups, walking audits, mapping exercises, web and email outreach, mailings, presentations to stakeholders, tabling at events, and a bilingual wrapped "Plan Van" to inform and involve residents in updating the city's General Plan and addressing local health concerns. The majority of these events included bilingual translation.
By partnering with organizations that have a shared interest in improving community health while reducing health inequities, the city has been able to collaboratively develop two neighborhood specific action plans that will target the greatest identified needs, by using the public elementary school catchment areas as a focal point. City leaders hope this effort will help reduce health disparities for Richmond residents, and provide a model that other communities can use to improve public health through better planning.
Process Highlights and Results
Effective partnerships with schools, the county health department, nonprofit and philanthropic organizations, university researchers, consultants and community based organizations provided the city with sufficient resources to engage diverse residents in planning and implementing an innovative approach to community health.
A "plan van" which displayed information in Spanish and English, carried planning staff to community events, schools, and shopping centers to survey and hear from residents about their thoughts on the General Plan and their vision for the city.
City staff and consultants involved representatives from nonprofits, faith based groups, local businesses, neighborhood organizations, schools, and city agencies in designing appropriate and accessible outreach materials and community workshops.
An interactive website with land use simulation exercises allowed residents to weigh in on planning options in Spanish or English.
A letter (written in English and Spanish) explaining the plan update and inviting participation was mailed to all residents and a recorded call from the mayor invited people to attend public workshops.
In order to effectively involve a more diverse community, targeted workshops were held in schools for youth and parents and at a Catholic Church for Spanish speakers. Public workshops provided an area for the City's many Laotian speaking residents to work with a bilingual community volunteer on planning activities.
To overcome cultural barriers dividing those most affected by health disparities, a workshop was designed to illustrate the common challenges that African Americans and immigrants face and sought to identify common causes that these Richmond residents could work on together.
Workshops offered children's activities, translation and served food in order to increase community participation.
A graphic facilitator created large wall illustrations at workshops to help people reflect on their dialogue and to confirm that organizers really "got" what they said.
The city is continuing to engage residents in crafting and prioritizing action plans aimed at improving community health and addressing health disparities (racial, socio-economic, and geographic) in targeted areas focused around public elementary schools.
City staff worked with a Berkeley-based planning firm to successfully apply for funding from The California Endowment. This funding and assistance from community partners made it possible for the city to engage diverse residents in developing an innovative Community Health and Wellness Element as part of Richmond's General Plan.
The draft General Plan, with a first of its kind in the state Community Health and Wellness Element developed in 2009, was released in February of 2011 for public review and comment. Adoption hearings are scheduled for the second quarter of 2011.
Resources were dedicated to hire staff with experience working with schools and community organizations to lead outreach efforts. This staff keeps in constant contact with community groups, schools and parents to support their initiatives and also keep city officials and staff informed about new developments.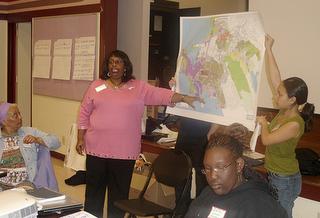 Lessons Learned
Partnering with groups grounded in the community made it possible for Richmond's professional staff to engage diverse residents, including those facing the greatest health risks related to the built environment.
Solutions identified through consensus building that involves all affected stakeholders are more viable and sustainable.
Reaching out to philanthropic organizations to partner on innovative projects supported by diverse stakeholders provided a win-win situation in which, the city was able to integrate health into the general plan to benefit residents and the philanthropy was able to pilot a novel and replicable effort to learn from.
Traditional noticing and working exclusively with neighborhood councils as a means of outreach tends to engage the most experienced community representatives. New outreach methods, such as partnerships with local elementary schools and community organizations, are necessary in order to engage a diverse cross section of residents.
Partnering with schools, the county health department, an experienced consulting organization, parent leaders, and community based organizations with common goals related to the health and wellness of the community provided the tools and expertise necessary for a successful public engagement effort.
Maps showing the locations of open spaces or bicycle and pedestrian accidents really helped people understand where problem areas were and think about how to create public space that supports good public health and community interaction.
Resources to Learn More