LEADING LOCAL Webinar Series
Session #2: Addressing Hate Crimes
Webinar Description
How can local leaders tackle complicated issues like race-based violence and hate crimes? Register for this webinar to learn from elected officials and non-profit leaders about how they are navigating the complexity of this topic. Learn timely tips about how to #stopAAPIhate, discuss discrimination and do more than just issue a public statement.
Panelists
Randi Johl, Legislative Director & City Clerk, City of Temecula
Otto Lee, District 3 Supervisor, Santa Clara County
Professor Brian Levin: Director of the Center for the Study of Hate & Extremism, Cal State San Bernardino
Yen Marshall: Executive Director, Asian Pacific Islander Public Affairs (APAPA)
Stephanie Nguyen: Elk Grove City Councilmember & Executive Director of Asian Resources, Inc.
Moderated by Erica Manuel, CEO & Executive Director, ILG
Presentation & Resources
LEADING LOCAL: Addressing Hate Crimes Presentation
City of Temecula Resolution Denouncing Racism
City of Temecula Race Equity Diversity Inclusion Commission
City of Temecula Race Equity Diversity Inclusion Initiative Overview
County of Santa Clara Resolution Condemning AAPI Hate Crimes & Violence
County of Santa Clara Anti-Hate Community Outreach and Education Campaign Referral
Video Recording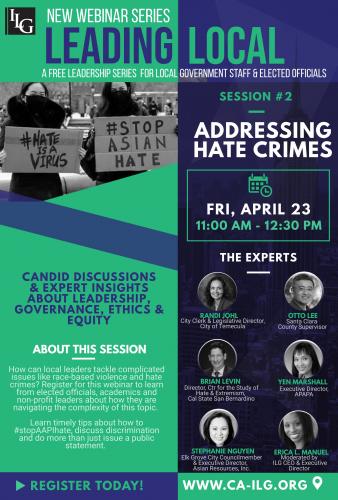 About the LEADING LOCAL Series
2020 was fraught with unprecedented challenges ranging from a global pandemic, to extreme natural disasters, to a divisive and polarizing election cycle. Local government leaders are being asked to step up in entirely new ways. How can they serve as role models for their communities and their peers in these ever-changing times?
LEADING LOCAL is a new thought leadership forum from ILG that is focused on addressing difficult topics and sensitive issues local government leaders face. Sessions will cover a wide range of issues and challenges like leading through conflict, civility and ethics, building personal resilience and more. LEADING LOCAL … because leadership starts at the local level. All LEADING LOCAL sessions will be specially curated with content for elected officials and staff at California cities, counties and special districts.
Past LEADING LOCAL Webinars Available On Demand
Session 1: The Role of Local Government in Times of National Crisis
Session 2: Addressing Hate Crimes
Upcoming Session Topics
Webinar dates and times to be announced; topics subject to change
Building Personal Resilience
Leading through Conflict
Building Bridges & Bridging Divides
Implicit Bias
Exploring Equity in Your Local Agency
Civility & Ethics
Collaboration across Boundaries & Jurisdictions