Public Sector Workforce Report
A workforce needs assessment of the six-county Sacramento region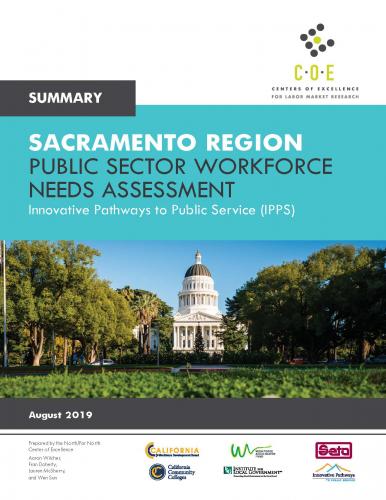 The summary report of the "Sacramento Region: Public Sector Workforce Needs Assessment" was shared with attendees at the August 29th summit on the six-county region's public sector workforce.
At the summit, researchers Aaron Wilcher and Fran Doherty shared the findings, recommendations, methodology and more with an audience of more than 250 professionals representing local, state, and federal government as well as labor, community groups and the private sector.
The full report will be available in September.
The report was commissioned by the Innovative Pathways to Public Service (IPPS) collaborative to have a foundational analysis of the public sector and to create pathways to attract, develop and retain a strong regional public sector workforce.
In addition to the summary report presentation provided by the Center of Excellence, the event program included a fantastic lineup of speakers and panelists, including:
Keynote Speaker:
Sonya Logman, Deputy Cabinet Secretary, Office of Governor Gavin Newsom
Public Sector Employers & Associations:
Adria Jenkins-Jones, Chief Deputy Director, CalHR
Leyne Milstein, Assistant City Manager, City of Sacramento
Kyle Packham, Advocacy & Public Affairs Director, California Special Districts Association
Kate Sampson, Director of Human Resources, County of Placer
This event was made possible with support of generous sponsors, including:
Platinum Sponsor:
Event Sponsors:
American Society for Public Administration
California Workforce Development Board
City of Sacramento
Highlands Community Charter
Sacramento Employment & Training Agency
SAFE Credit Union
SMUD
University of Southern California