Preparing Vulnerable Californians For Natural Disasters
Is your community listos (ready)?
Recording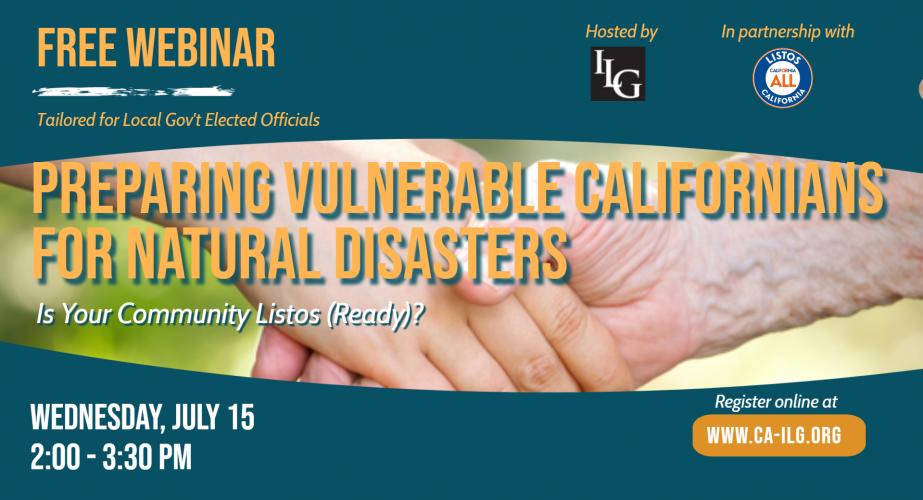 Materials
Presentation Materials for Listos CA & ILG Webinar
Webinar Description
Community members rely on local governments to provide them with timely, accurate information about their local disaster preparedness and response. As we've learned throughout history, disasters disproportionately impact seniors, immigrants, non-English speakers, communities of color, people with disabilities, and the poor. Without significant efforts to engage and educate these communities about disaster preparedness, they are destined to suffer repeatedly, disparately, and unnecessarily when disaster strikes.
On this webinar, ILG and our partner – the Governor's Listos California Emergency Preparedness Campaign – will share data-driven best practices for effectively engaging and educating vulnerable communities about disaster preparedness.
Panelists
Karen Baker and Justin Knighten, Co-Chairs, Listos California
Tom Wheeler, Supervisor, County of Madera
Rico Peralta, Director of Program & Training, United Way of Fresno & Madera Counties
Erica Manuel, CEO & Executive Director, Institute for Local Government, Moderator
We are grateful to our affiliate organizations — the League of California Cities, the California Special Districts Association and the California State Association of Counties — for their support of and participation in ILG's many training and education activities.
Related Links