Financial Uncertainty During COVID-19: Budget Forecasting & Financial Tips for Local Government Leaders
Recording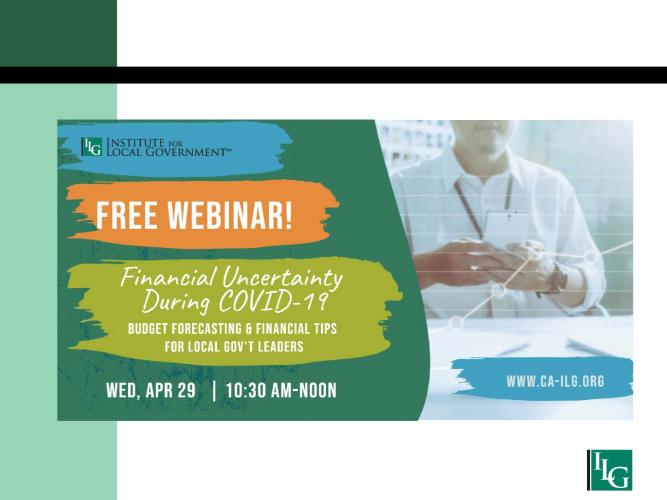 Presentation
Presentation - ILG Webinar on Financial Uncertainty and COVID
Webinar Description
Local governments across the state are anticipating decreases in revenue as a result of the COVID-19 pandemic. From sales tax and transient occupancy tax to delays in utility rate and user fee recovery, local agency forecasts for 2020 and beyond have been dramatically impacted. Join ILG and municipal finance experts for a FREE webinar to learn more about statewide budget forecasts and hear tips for helping local leaders begin to navigate this crisis and prepare for the future.
Panelists, Subject Matter Experts & Moderator
Bobby Young, Director of Client Services, HdL Companies
Dennis Kauffman, Chief Financial Officer, City of Roseville
Nicolas Romo, Legislative Representative, League of CA Cities
Erica Manuel, Executive Director, Institute for Local Government (Moderator)
Presentations, Recordings, Written Resources & More
Upcoming Webinars/Trainings by Related Organizations
CSMFO: "Strategies for Managing Financial Implications Resulting from COVID-19″
Websites
PresentationS
Reports & Guidance
We are grateful to our affiliate organizations — the League of California Cities, the California Special Districts Association and the California State Association of Counties — for their support of and participation in ILG's many training and education activities.
Related Links