Are You Ready for Public Engagement?
A Conversation for Cities, Counties and Special Districts
Description
Join Sarah Rubin, Public Engagement Program Director at the Institute for Local Government, and Ashley Trim, Executive Director of the Davenport Institute for Public Engagement and Civic Leadership at Pepperdine University for an interactive webinar about how public engagement can help you build trust and develop sustainable policy within your community. We will look at setting a good foundation for public engagement within your organization, and explore some key questions to ask before you get started.
Panelists
Sarah Rubin, Institute for Local Government
Ashley Trim, Executive Director of the Davenport Institute for Public Engagement and Civic Leadership at Pepperdine University
Presentation and Video Recording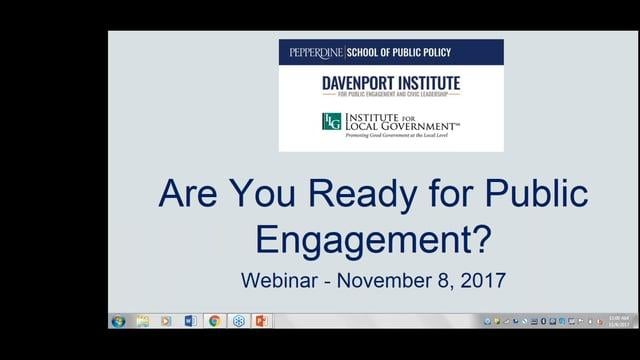 Related Links