Engaging Immigrant Communities – Best Practices & Resources
From the Public Engagement Program
Ten Ideas to Encourage Immigrant Engagement
A one-pager that provides ideas drawn from cities and counties throughout California on ways to more successfully engage immigrant residents.

A Local Official's Guide to Immigrant Civic Engagement (2008)
This guide is designed to help local officials and staff design and implement inclusive civic participation processes that recognize, inform, and engage their community's growing number of immigrant residents and their families.

Collaborative Strategies for Day Labor Centers
This guide will assist local officials, immigrant serving organizations, day labor center planners and leaders, and others to understand how collaborative relationships, partnerships and processes can assist in the successful development and operations of a day labor center.

Language Access Laws and Legal Issues: A Local Official's Guide
Explains the laws that require language access in order to insure that limited English-proficient residents have access to public benefits and services, and an opportunity to participate in public life.

Welcoming Initiatives in California
The Institute for Local Government's Public Engagement program partnered with Welcoming America to support the launch of the first two immigrant welcoming initiatives in California. Both communities – Redwood City and Oakley – undertook intensive multi-sector planning efforts, with local officials as substantial partners to develop their respective "welcoming" programs. These two programs are now underway – Redwood City Together and You, Me, We = Oakley.

League Annual Conference Session Offers Immigrant Integration Strategies

A session on Approaches to Immigrant Integration in California Cities: Opportunities for Local Official's was presented at the League of California Cities Annual Conference in September 2011. Moderated by Jose Cisneros, Treasurer of the City and County of San Francisco, the session featured efforts by cities around the state to successfully integrate newcomers into the civic and political life of their communities.

Organized by the Institute for Local Government, session topics included: Redwood City's immigrant welcoming initiative, Cupertino's Block Leader Program, and a Fresno council member's experiences with engaging immigrant communities.

Speakers included:
Dave Knapp, City Manager, City of Cupertino
Barbara Pierce, Council Member, City of Redwood City
Blong Xiong, Council Member, City of Fresno
Here is a video presentation of the session. A PowerPoint presentation of the session is available here.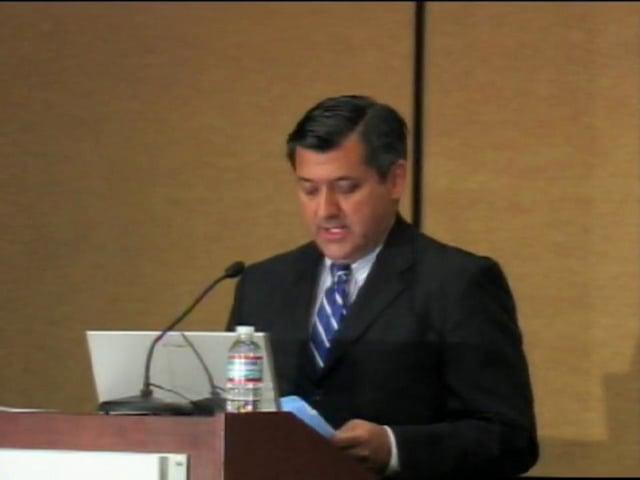 Citizenship and Public Engagement of Legal Permanent Residents Project
With generous grants from the Zellerbach Family Foundation, Werner Kohnstamm Fund and The California Endowment the Institute will develop resources for California's local officials to support immigrant democratic participation.

ILG's Immigrant Engagement Listserv
The Immigrant Engagement Listserv facilitates the sharing of information and resources among local officials interested in the successful participation of immigrant residents in the civic, economic and political life of their communities throughout California. To subscribe click on the link above.
For a full list of ILG's Public Engagement resources, visit www.ca-ilg.org/engagementpubs.
From Others
Articles
Public Management magazine (May 2009)
The article, The Case for Immigrant Integration by Nadia Rubaii-Barrett, focuses on how professional local government managers can integrate recent immigrants in ways that benefit both immigrants and long-term residents of a community and that can make local service delivery more effective. Several examples are provided of communities that have engaged in immigrant integration. This article was printed in Public Management magazine (May 2009).
Western City magazine
Publications, Reports and More
California Immigrant Policy Center
Looking Forward: Immigrant Contributions to the Golden State 2010 – A compilation of new and existing data primarily on the economic contributions of immigrants to California. It also includes sub-sections to this report focusing on six regions in the state where immigrants represent and important and growing segment of the population.
Grantmakers Concerned for Immigrants and Refugees (GCIR)
The toolkit, Investing in Our Communities: Strategies for Immigrant Integration, from Grantmakers Concerned with Immigrants and Refugees (GCIR), identifies key stakeholders in the two-way integration process, six pathways to integration, and ways in which integration benefits both the newcomers and the receiving society. This toolkit profiles more than 75 promising program and policy models that can inform work in local communities in the areas of community planning, language access, English acquisition, education, health and well-being, economic mobility, equal treatment, social cultural interaction, and civic participation and citizenship.
The article, Report Highlights Growing Political and Civic Impact of Immigrants and Their Children, describes a report by Grantmakers Concerned with Immigrants and Refugees that provides estimates of the size and potential civic impact of three immigrant-related populations in California:1) naturalized adult immigrants; 2) legal immigrants who are eligible to naturalize (become citizens); and 3) immigrants' children who are U.S. citizens and will be able to vote in the next three federal election cycles. This article was printed in Western City (August 2008).
Maytree Foundation
Webinar: Making Integration Count: Local Gateways to Citizenship

Cities of Migration seeks to improve local integration practice in major immigrant receiving cities worldwide through information sharing and learning exchange. This webinar features Fort Wayne, Texas and Oslo, Norway and was presented by Palermo Galindo, Planner, City of Fort Wayne, Texas and Torlav Moe, Senior Advisor, Department of Education and Cultural Affairs, Oslo, Norway.

Click here to learn more about Cities of Migration.
National League of Cities (NLC)
Positive Crossroads: Mexican Consular Assistance and Immigrant Integration - This guide highlights important partnerships between the Mexican Consulates and communities across the country to support immigrant communities.
Civic Engagement and Recent Immigrant Communities: A Planning Guide for Local Officials and Community Leaders – A discussion guide developed by the National League of Cities' (NLC) Center for Research and Innovation presents local officials with the first steps and directions for developing or re-establishing efforts toward integrating immigrants into the civic life of the city. This new publication was developed through a collaboration of NLC's Democratic Governance project and the Municipal Action for Immigrant Integration Program(MAII).
The National League of Cities has published "Municipal Innovations in Immigrant Integration: 20 Cities, 20 Good Practices," featuring the "top 20 Cities with the best innovative programs and initiatives in the area of Immigrant Integration in the country." This is second in the American Cities Series produced by the Municipal Action for Immigrant Integration program, part of NLC's Center for Research and Innovation. The series focuses on city-led efforts to promote the civic engagement and inclusion of recent immigrants in cities and towns across the United States. For questions about the report contact Ricardo Gambetta at Gambetta@nlc.org.
National Governors Association Center for Best Practices
Welcoming America and the Spring Institute for Intercultural Learning
The City of Cupertino and Redwood City were featured in The Receiving Communities Toolkit: A Guide for Engaging Mainstream America in Immigrant Integration. This recent publication draws upon and highlights a growing body of promising yet often little-known efforts that successfully bridge divides between immigrants and longer-term residents in receiving communities across the country. The toolkit is designed to be an easy reference guide for those interested in strengthening contact, communication and leadership engagement practices.
U.S. Citizenship and Immigration Service (USCIS)
USCIS launches a citizenship public education and awareness initiative.There are an estimated 2.3 million legal permanent residents (LPRs) in California who are eligible for citizenship. Recent estimates indicate that naturalization could increase California's adult citizen population by up to 10 percent. Learn about a new federal initiative to raise awareness about the rights, responsibilities, and importance of U.S. citizenship.
USCIS partners with cities to host naturalization awareness. USCIS is holding public naturalization information sessions to raise awareness about the process. In some cities, USCIS has co-hosted these events with local governments or community-based organizations, allowing USCIS to widen the scope of is outreach efforts. The naturalization awareness sessions focus on: demystifying the naturalization process; informing immigrants and educators to learn about publicly available educational resources for the new test; and building organizational capacity through partnerships between USCIS field offices and local partners, especially at the city level. If you have suggestions about how USCIS might partner with your city to host a naturalization awareness session, please contact Rachel Ellis with USCIS Community Relations at Rachel.ellis@dhs.gov.
Related Links