Sue Novasel
Board Member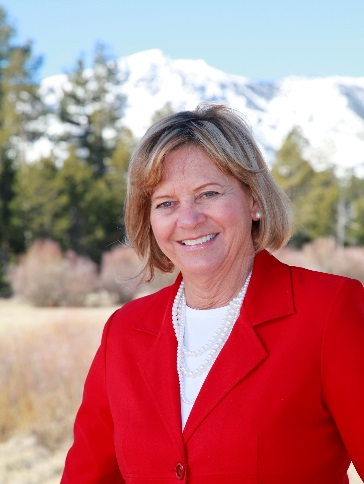 Supervisor
El Dorado County, District 5
Sue is a 4th generation Californian, being born and raised in Salinas, California. She has been married to her husband Bob for over 30 years and together they raised two daughters while living in the Meyers area of Lake Tahoe. Sue received a Bachelor's degree from the University of Nevada, Reno, with an emphasis in finance and marketing. She founded a business in wedding coordination and performed over a half dozen weddings as an ordained minister.
Sue served as a school board trustee to the Lake Tahoe Unified School District for over 11 years and is past president of the board. She served as President of Soroptimist International of South Lake Tahoe, President of Lake Tahoe Wildlife Care, President of Lake Tahoe Community College's Foundation and President of Temple Bat Yam in South Lake Tahoe. She also served on the board of the Tahoe Chamber of Commerce, South Lake Tahoe Wedding and Honeymoon Association and Barton Hospital Foundation's Community Advisory Committee.
Sue was elected as the District V County Supervisor in the November 2014 and is currently serving her second term in that office. She also serves on various boards and commissions including the Tahoe Regional Planning Agency, California Tahoe Conservancy, Tahoe Transportation District, First Five of El Dorado County, the South Lake Tahoe Basin Waste JPA and the South Tahoe Recreation JPA, Sue was recently honored by becoming the State Assembly District 5's Woman of the Year.
Related Links