Judy Mitchell
Board Member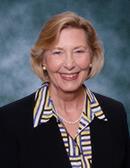 Former Mayor
Former Councilmember
Judy Mitchell has been involved in local government for over 30 years. After years of service to her southern California community, she was elected to the Rolling Hills Estates (RHE) City Council in 1999. During her tenure on the city council, she served as Mayor four times in 2004, 2009, 2014 and 2019. Judy retired from the city council in 2020.
Judy's activities in Rolling Hills Estates include serving on the RHE Park and Activities Commission (1985-1993), Planning Commission (1994-1999), Palos Verdes Transit Authority Board, Environmental Advisory Committee, Equestrian Committee and Regional Law Enforcement Committee.
Judy was selected to serve on the South Coast Air Quality Management District (SCAQMD) Governing Board in 2010, 2014, and 2018 as the representative for cities in the western part of Los Angeles County. In May 2013, Judy was appointed by Governor Edmund G. Brown Jr. to the California Air Resources Board as the SCAQMD Representative and was later confirmed by the state Senate. She retired from that position in December 2020 and she retired from SCAQMD in February 2021
Judy was also a regional Council Member of the Southern California Association of Governments (SCAG) from 2012-2020.
Judy's long history of public service has included a strong interest in environmental protection, including helping establish Highridge Park, the 36-acre George F Canyon Nature Center, and the 28-acre Linden H. Chandler Preserve – critical parts of RHE's natural environment and the sites of intensive habitat restoration efforts. She also initiated RHE's first Environmental Advisory Committee, which facilitated the city's adoption of energy-efficient, green building guidelines, a water conservation ordinance, and a climate action plan.
Judy received her B.A. from Purdue University, an M.A. from University of California at Los Angeles, and her J.D. from Loyola Law School at Los Angeles. Judy is a retired attorney and was previously engaged in a business litigation practice from 1978- 2005.