Jerry Patterson
Board Member Emeritus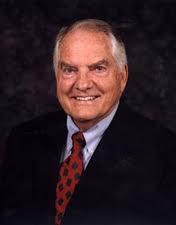 Member, Board of Trustees
Coast Community College District
Former Member, US House of Representatives
Former Mayor, Santa Ana
Jerry is the Institute board's longest-serving member. As it's board chair in the late 1990s, he played a pivotal role in steering the Institute's efforts to where they are today. Jerry championed the idea that the Institute invest in a strategic planning effort that has resulted in an ongoing analysis and reflection on how the Institute's efforts can be most helpful to local officials and the communities those officials serve.
Jerry brings to his service on the Institute board a deep and rich background in public service. He was mayor of Santa Ana and then represented the area in the U.S. House of Representatives for a decade (from 1975-1985). He currently is a governing board member of the Coast Community College District.
A lawyer by training, Jerry has served as city attorney for a number of southern California cities. He was a partner at the law firm of Burke, Williams & Sorensen. Jerry received his law degree from UCLA and his undergraduate degree in public administration from USC.
Jerry has taught public administration at California State University at Long Beach and UC Irvine.
The League of California Cities' recognized Jerry's illustrious public service with its prestigious Past Presidents' Lifetime Achievement Award in 2005.