Webinar Basics
How to Choose a Listening Mode
Choose your preferred Audio Mode using the options in the Audio Pane.

You do not need to call in by telephone if you are able to listen through your computer's speakers.
Using both your computer speakers and telephone will cause an echo – choose either telephone or speakers to listen to the audio portion of the webinar.
Listening via telephone is our recommended method in order to avoid drops in audio that can occur by streaming the audio through your computer.
How to Submit Questions
We will be accepting questions and comments through the GoToWebinar Question Pane on your screen.
All participants' phone lines are muted and we will not be accepting questions through the phone.
In order to submit a question, first make sure that you have the control Panel visible.

To do this, click the arrows on the Grab Tab to expand the control panel. Once the Control Panel is expanded, locate the Questions Pane. Within the Questions Pane you may type questions and comments into the provided bow and click send to submit the text to the panelists.
We will try to address as many questions as possible during the webinar.
Control Panel
If you do not see the Control Panel (A), click the arrows on the Grab Tab (B) to expand the viewing area.
Next, choose your preferred listening mode using the options in the Audio Pane (C).
To submit questions or comments to the panelists, type text into the box provided in the Questions Pane (D) and click the Send (E) button.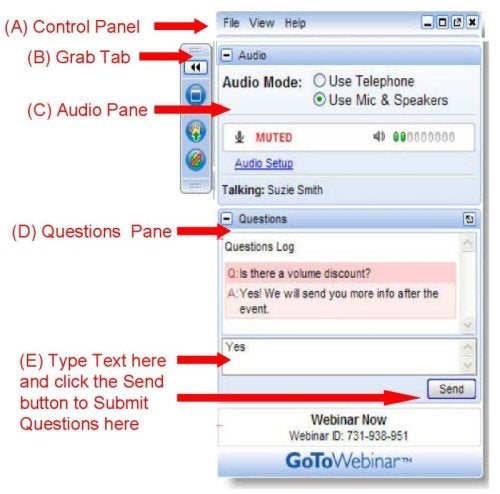 Related Links