Vallejo Transforms a Vacant Lot Into a Transit Village
Sereno Drive Before
For years this 5.86-acre, vacant lot on Sereno Drive had been a magnet for illegal dumping and other activities.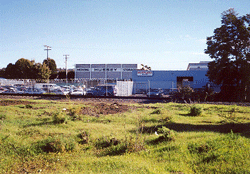 Facing a critical housing shortage, the City of Vallejo acquired the property in 2000 and moved forward with plans to build an innovative pedestrian-oriented community that links affordable housing to important community and transportation services. Working together with the Citizens' Housing Corporation and the Affordable Housing Affiliation, the Vallejo Redevelopment Agency transformed this once-vacant lot into a model affordable housing development / transit center – Sereno Transit Village and Transit Center.
Sereno Drive Now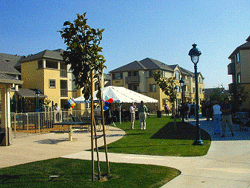 Completed in June of 2003, Sereno Transit Village includes 125 affordable housing units for low-income families. It also features an on-site daycare and community center for its residents and the surrounding community. Five apartment buildings surround a courtyard complete with a playground, lawns and benches. The Transit Center, once the site of a bus transfer station, is located in front of Sereno Village and provides easy access to public transportation. The project received funding from Metropolitan Transportation Commission to integrate the residential units with the Transit Center by providing connecting pathways for pedestrians and bicyclists.
Sereno Transit Village and Transit Center has dramatically improved the lives of its residents and the surrounding community by:
Integrating affordable housing with on-site childcare and community service programs.
Providing on-site playground facilities giving parents a safe location for their children to play.
Encouraging infill development in which walking, bicycling, and public transit are the primary forms of transportation.
Reducing traffic congestion on the street, making the surrounding area safer for pedestrians.
Related Links