Union City Redevelops Mobile-Home Park to Create New Affordable Housing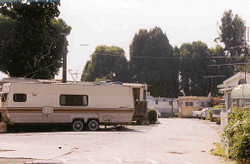 The Community Before
Before the Mission Gateway project was conceived, the land included a used appliance store whose owner wheeled used washers, dryers and refrigerators onto the street that served as the gateway to the city.
There was also a used car lot filled with junk, dilapidated apartments and a 50-year-old mobile home park filled with aging trailers. Some families lived in small camping trailers and some of the "better" homes were 30-year-old mobile homes that were falling apart.
The Community Now

Redevelopment agency staff worked with residents of the trailer park, Mid Peninsula Housing and neighbors to develop a plan to improve this area by creating safe, affordable housing for community residents.
One resident — 88-year-old Mae True Love — insisted that the agency keep all the older residents and their caregivers together during relocation. To accommodate this request, the city purchased five modular homes for these households and placed them on agency-owned property.
These seniors and their caregivers will move into Mission Gateway when it opens, and the modular homes will be moved to replace substandard mobile homes at another mobile home park in Union City. Residents of the El Arroyo Mobile Home Park testified before the Redevelopment Agency in support of the project, which is still under construction.
Once completed, this project will:
Provide 120 units of affordable housing
Ensure rents will be priced to be affordable to households earning 35 percent to 60 percent of the median income for Alameda County
Improve neighborhood aesthetics by including sidewalks, landscaping and courtyards

Related Links