Technical Assistance Workshop: Public Engagement for Housing Elements During COVID
Recording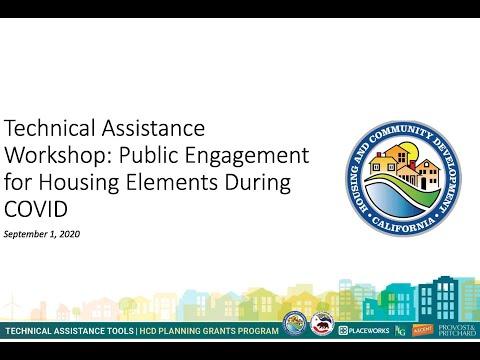 Materials
Technical Assistance Workshop: Public Engagement for Housing Elements During COVID Presentation
Webinar Description
The COVID pandemic has changed the way local governments engage their communities. Cities and counties across the state are grappling with how to authentically engage their communities and comply with the engagement requirements of their 6th cycle housing element updates. This workshop shared strategies, tools and best practices to engage your community on housing topics in a virtual environment.
Speakers
Sohab Mehmood, Housing Policy Specialist, Department of Housing and Community Development
Wendy Nowak, Principal, PlaceWorks
Melissa Kuehne, Program Manager, Institute for Local Government
We are grateful to our affiliate organizations — the League of California Cities, the California Special Districts Association and the California State Association of Counties — for their support of and participation in ILG's many training and education activities.