Stanton Utilizes Vacant Property to Create Housing for Residents with Cerebral Palsy
The Community Before
The area that is now the Santa Ana Artist Lofts was an under-utilized surface parking lot near the old City Hall.
Crumbling concrete, chain link fences, weeds, and trash littering the streets and sidewalks all added to the demise of this area and demonstrated the need for redevelopment. The concept, vision and goals for the Artists' Village were established in 1988 and paved the way for the successful long-term revitalization of the downtown.
The Community Now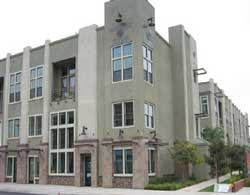 The Artist Lofts project is a residential extension of Santa Ana's art district. It embodies key infill principles by providing upscale residential space attached to street level retail and commercial space. A surface parking lot was converted to needed housing, while retaining the "Art Walk" theme of the surrounding area (IRP, 2004).
Some of the benefits of the artist lofts include:
The project will consist of 86 new housing units on three sites
All of the units will be homeownership units
6 units in the East Village Block will be affordably priced at 60% to 80% of the median income
Affordable units will remain affordable for 45 years
The development will connect the Artists' Village Theme into the downtown

Related Links