Senior Housing Replaces Contaminated Rail Site in Livermore
The Community Before
This site was a vacant 10-acre parcel bordering the Union Pacific railroad line and was in need of environmental clean-up. Livermore had been looking for ways to provide affordable housing for its growing senior population.
The city wanted to create housing that would not only provide a place to live, but also offer a wide range of support services that allow tenants to age in one place with dignity and grace. In order to use this site, the redevelopment agency would need to clean it up and would also mitigate the noise from the trains.
The Community Now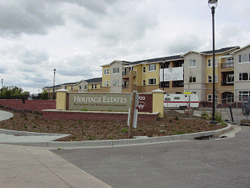 Now there are 250 homes for seniors offering care and assisted living services with a local nonprofit hospital across the street. Redevelopment housing set-aside funds increased the number of affordable homes to 40 percent and 103 of the residential units are reserved for low- and very low-income. Residents can buy meals and participate in activities at discounted rates. The project includes a variety of other amenities, including an Internet café, library, theater, billiard room, fitness center and outdoor paths.
For more information about the project, click here.
The Project Involved:
Building 250 homes for seniors, 40 percent of which are affordable to low-and very low-income seniors
Cleaning up contaminated soil
Making way for future construction of a 130-unit independent senior apartment with a similar affordability component on a neighboring site (Construction occured in late 2005
Related Links