San Francisco's Mission Bay Makeover


Mission Creek Before
Because of its Bay-front location close to the City's financial district, Mission Bay was identified as a prime location for mixed-use redevelopment. The 303-acre Mission Bay area was previously a blighted industrial area, marked by vacant parcels and dilapidated and underused warehouse buildings.
The area once served as a rail terminal for San Francisco's port, but fell into disuse and economic obsolescence. Mission Bay's infrastructure was obsolete as well, with large areas never served by public streets or water and sewer systems.
San Francisco's Board of Supervisors established the Mission Bay North and South Redevelopment Project Areas in November 1998, which will eventually include 6,000 residential units (28% affordable), 6 million square feet of commercial space, a hotel, retail development, and 51 acres of new parks.
Mission Creek After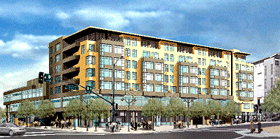 San Francisco's Mission Creek Senior Community received final approvals from the San Francisco Redevelopment Agency's commission in November 2003. It is part of an ongoing effort to create a vital community with a variety of housing options, including affordable housing, in the Mission Bay North and South Redevelopment Project Areas. Mission Creek Senior Community is due to be completed in 2005, and will be a great asset to this new neighborhood. Some features of the project include:
139 one-bedroom/one-bath apartments for very low-income elderly persons (age 62+)
On-site adult day health center, which assists in activities of daily living. The Center is large enough to serve at least 50 full-time clients.
San Francisco Public Library's Mission Bay branch
4,000 square feet of retail space
Community meeting hall seating up to 100 people
Related Links