San Diego Uses Public-Private Collaboration to Develop Family Apartments
The Community Before
Barrio Logan is a historic, culturally-vibrant and ethnically-diverse community in South San Diego.
Unfortunately, in recent years, the community has been plagued with boarded up and dilapidated commercial and residential buildings. The rundown area has attracted vandalism, graffiti and littering. The area is in desperate need of community improvements and affordable housing.
The Future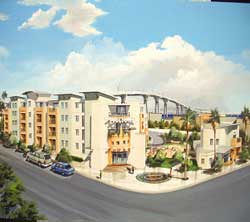 The Gateway I Family Apartments, which will break ground in Summer 2005 and anticipates completion in Spring 2006, is an example of public-private collaborative effort between the City of San Diego, Simpson Housing Solutions and United Community Inc.
It will assist in eliminating blight while preserving the neighborhood's distinctive character.
The project includes:
Creating 42 for rent units of affordable housing for low- to moderate-income families
Creating 16 two bedroom, two bath units and 25 three bedroom, two bath units for low-income families
Enhancing the community with a multi purpose room, full service kitchen, children's play area with public restroom, media center, entertainment center with large screen TV, computer center with fax and business services for residents including free internet service

Related Links