Regional Meetings Advances Youth Public Engagement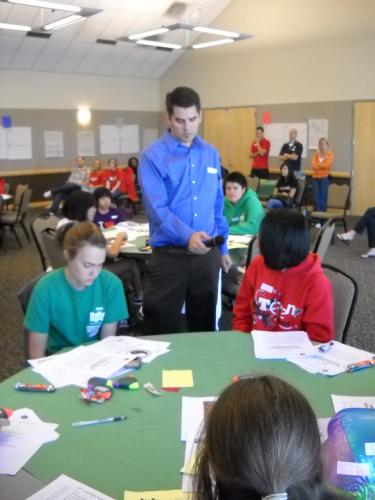 The Institute for Local Government's Public Engagement and Collaborative Governance program has been organizing meetings around the state in an effort to support effective youth commissions and authentic youth civic engagement.
Discussing Strategies and Networking at Regional Meeting in La Mesa
Working in collaboration with Michelle Greenberg, Recreation Supervisor and youth commission advisor for the city of La Mesa, the Institute organized a regional staff networking and strategy sharing dialogue and luncheon on February 17, 2009 at the La Mesa Community Services Center. Seventeen people who work with youth commissions or youth advisory councils from cities large and small around the region gathered to network and share effective strategies for increasing the impact of youth voices on local government decision making, to discuss possible areas/issues for collaborative youth efforts, and to hear some ideas about developing effective youth commissions from recent case studies collected by the Institute. An email list-serve was created at this meeting to enable participants to continue to build a useful regional staff support network.
This fledgling network of Southern California youth commission staff met for a second time on May 27th in La Mesa, again with the support of the Institute and Michelle Greenberg. This time the group welcomed visitors from the National League of Cities Youth Education and Families (YEF) Institute in Washington, D.C. Leon Andrews, Program Director for Youth Development at the YEF Institute, and Cindy Carlson, a consultant to that Institute who directs a very successful youth commission in Hampton, VA, engaged a group of local officials in a lively dialogue about what they consider to be authentic youth civic engagement.
IYEF Presentation at Regional Meeting in San Diego
The next day, on May 28th, the Institute organized another discussion on authentic youth civic engagement at the League of California Cities Mayors and Council Members Executive Forum in San Diego. At this event, 14 mayors and council members from cities around the state learned about the Institute's Public Engagement and Collaborative Governance program and IYEF efforts related to youth engagement, shared their own experiences, and offered feedback on IYEF's working definition of authentic youth civic engagement. It was an exciting opportunity for peer to peer learning, as city leaders shared innovative ways of involving youth in their decision making process and the associated benefits and challenges. After hearing how the City of Indio's Youth Advisory Council has been a valuable resource to that city council and community, one mayor in attendance expressed her interest in creating a similar youth advisory body with a staff liaison, rather than having one youth serve as a non-voting advisory member of the city council.
Teen Leadership Retreat in Elk Grove
On April 25th, 2009, Institute staff led an interactive session on youth engagement with more than 100 youth and adult staff at the inaugural "Teen Leadership Retreat," held in Elk Grove. The Retreat was organized by the Northern California Teen Resources Group, a support network of adults who work with youth groups in cities and counties in the Sacramento area. The Institute session introduced the topic of inclusive public engagement to the teens, and highlighted functions leading to successful youth commissions. The teens shared their perspectives on who is typically left out of public decision-making in their communities and what they felt were the most important things they needed to have a voice in local government.
The Institute is working to organize similar dialogues in other areas of the state. If you are interested in getting involved in one of these regional staff support groups, or you have a story to share about another staff support network, please contact Carmen Pereira: cpereira@ca-ilg.org or 916-658-8208.

Related Links