Redevelopment Case Stories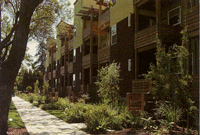 San Jose Redevelopment Agency
The San Jose Redevelopment Agency has created a network of neighborhood-led volunteer groups that develop and implement redevelopment strategy.
Working in partnership with neighborhood leaders, the agency has established 19 Neighborhood Action Coalitions, lead by over 400 residents, business owners and community-based organizations.
The Neighborhood Action Coalitions are a product of San Jose's Strong Neighborhoods Initiative. Launched in 2000, the Strong Neighborhoods Initiative was created to address the need for greater interdepartmental coordination in San Jose's redevelopment efforts. It established 19 neighborhood project areas, each of which developed a Neighborhood Improvement Plan.
Each Neighborhood Action Coalition (some neighborhoods call their groups Neighborhood Advisory Committees) consists of approximately 20 representatives, including residents and business owners. Neighborhood Action Coalitions strive to include stakeholders and stakeholder associations. Members of neighborhood committees include local leaders suggested by council members, or others who responded to public outreach activities.
Meeting schedules vary: some groups meet every month, others less often. Some Neighborhood Action Coalitions are very independent. They do their own outreach and facilitate their own meetings. Attendance at some meetings can reach up to 100 people. A Neighborhood Development Center established by the redevelopment agency provides coaching and other resources.
The tangible result of these activities is a $53 million investment in 120 capital projects. Equally significant in terms of public participation is the emergence of an expectation that neighborhoods will be involved in planning. Neighborhoods are consulted first and they continue to be involved in projects through completion.
For more information, see the Strong Neighborhoods Initiative Business Plan, and visit the Strong Neighborhoods Initiative website at www.strongneighborhoods.org.
Contact: Laura Lam
Strong Neighborhoods Initiative Manager
(408) 535-8500
Chula Vista Redevelopment Advisory Committee
The Chula Vista Redevelopment Advisory Committee, or "RAC," is a community-based advisory board that makes recommendations to the Chula Vista Redevelopment Corporation on development applications, with emphasis on design and on conformity with adopted plans, ordinances, and guidelines. The Chula Vista Redevelopment Corporation is a 501(c)(3) nonprofit organization formed by the City of Chula Vista to support the planning and redevelopment activities of the City Council and Redevelopment Agency.
Building on established principles of encouraging public involvement "early and often," the Redevelopment Advisory Committee hears presentations on proposed redevelopment projects (in a two-step process) that provide developers with early feedback. This allows applicants to adjust their prospective project in line with Redevelopment Advisory Committee recommendations, and to return with a redesign that meets with Redevelopment Advisory Committee approval and results in a recommendation for approval to the full Chula Vista Redevelopment Corporation Board. Redevelopment Advisory Committee members are selected by their respective participating organizations (community groups, business associations, or selected City advisory commissions).
Some experimentation has occurred in the form of an "open house" prior to the formal opening of the meeting, allowing meeting attendees and Redevelopment Advisory Committee members to discuss proposed projects (on the evening's agenda) on a one-to one basis with applicants. The Redevelopment Advisory Committee has met in different locations, including a school and the police department, in an interest in to ensure a greater accessibility to the public. Notices of the meeting are provided in both English and Spanish and are posted on the City's Agenda board, on the City's website, in the local newspaper, libraries and recreation centers. They are also mailed directly to property owners surrounding subject projects.
Redevelopment Advisory Committee Rules and Procedures
Contact: Eric Crockett
Redevelopment Manager
Chula Vista Redevelopment Corporation, < ecrockett@ci.chula-vista.ca.us >
Related Links