Monterey Converts Parking Lot Into Mixed-Use Development
The Community Before
Located in historic downtown Monterey, Osio Plaza was a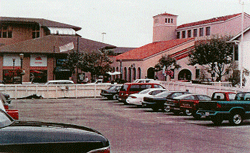 small parking lot owned by the agency since 1975.
Over a 10-year visioning process the community provided input and ultimately tremendous support for the transformation from an empty 15,000 sq ft lot to a 33,000 square foot multi-level mixed-use project.
The Community Now
Incorporates housing with retail space at the hub of a thriving area surrounded by numerous commercial businesses and other mixed-use projects

Art and Foreign Film Theatre and Café attracts other activities downtown where movie goers may stay for dinner or shop at the local bookstore
30 apartments created including 24 designated for moderate-income and 6 for low-income individuals and families
Ongoing revenue generated for the city through lease payments and increased retail business.
Related Links