Leadership & Innovation Awards
Eligibility Information
Introduction
Open to cities, counties, special districts, and Beacon Champions, these competitive Leadership and Innovation awards celebrate the efforts of local governments to implement collaborative, inclusive, and equitable climate resilience and adaptation programming in their communities. Achievements in these categories is not required to receive the Beacon Vanguard Award.
Multiple winners in each category may be awarded, with special recognition for runners-up. Winners will receive recognition at the annual Beacon Awards Ceremony in front of a statewide audience of your peers, and recognition associated with League of California Cities, the California State Association of Counties, California Special Districts Association, and other events and publications as applicable. ILG will produce case studies for selected winners for distribution via ILG and affiliate channels and publications, submission to the ICARP Adaptation Clearinghouse, and others.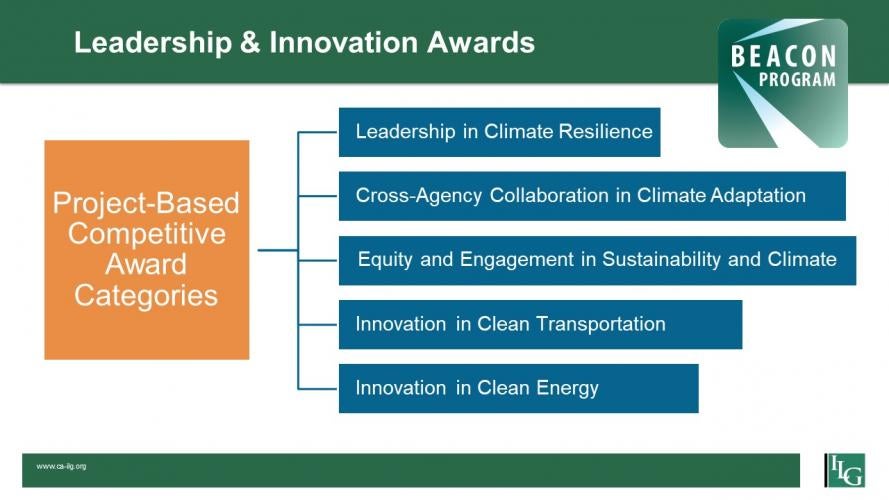 More Details
Any California city, county, special district, Beacon Champion that provides a program or service that has proven tangible and measurable results with a minimum of one year of actual implementation are eligible to apply. Applicants do not need to be participants in the Beacon Program or active Beacon Champions to apply, but will be encouraged to join the program following award submission. Entities that are eligible to serve as Beacon Champions such as nonprofits, community choice aggregation programs, foundations, councils of governments, transportation agencies, and others may apply for award consideration.
The application will ask you to address the following in 1500 words or less:
Describe the need or concern that prompted the development of the program, policy, or project.
Describe the steps taken by your agency to address the need or concern.

Explain the objectives and how they were met.
Demonstrate how your agency utilized inclusive public engagement practices to identify and implement the solution.
Explain how the program, policy, or project incorporates practices that advance equity.

Describe the results of the program.

How did the program affect the community and enhance resiliency and adaptation?
What, if any, was the cost or resource savings?
What lessons are instructive to other agencies?
Only one application and narrative per category may be submitted by an agency. A program or activity may only be submitted for one category.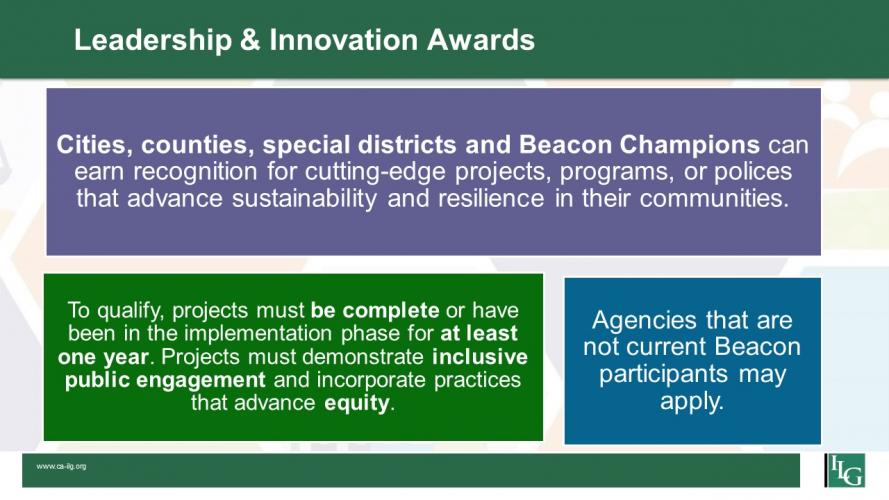 Related Links