Hayward Works With Developer to Sell Units Below Market Rate
The Community Before
Rundown single-family homes with illegal additions, an old gas station, obsolete commercial buildings and an auto repair shop once populated the block of downtown Hayward now known as Renaissance Walk.
Hayward takes great pride in working with landowners to try and accommodate their wishes. The agency was able to acquire all but one residential site voluntarily. The one site is home to a 90-year-old Hayward resident who has lived there for most of her life and didn't want to sell. The project was designed around her house and the site plan was configured to accommodate a fourplex building at a future date.
The Community Now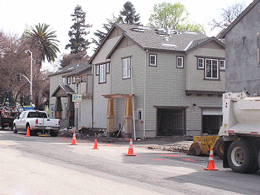 Hayward's Redevelopment Agency was committed to build housing downtown. Working with a developer, the Agency agreed to spend $5.5 million on the project, including land acquisition, relocation benefits and environmental remediation needed at the former gas station site. The Agency reduced the cost of the land to $2 million for the developer who agreed to sell 22 of the projects 46 units to families earning a moderate income. Those units will sell for between $265,000 and $275,000. The remaining 24 units are being sold at a market rate of almost twice that amount.
The Project Involved:
Building 22, two-bedroom flats for sale to moderate wage earners
Keeping these homes affordable for 45 years through resale restrictions
Providing housing within walking distance of a BART station
Bringing new life to the downtown area

Related Links