Glossary of Land Use and Planning Terms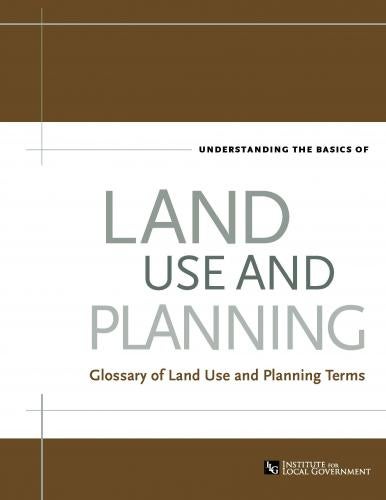 As local officials know, land use policy frequently involves technical terminology and a host of acronyms. To assist with this challenge, the Glossary of Land Use and Planning Terms provides a ready reference for local officials.
The glossary includes materials relating to emerging issues in land use planning, including climate change and the health implications of land use decisions.
This resource would not be possible without the generous support of the California State Association of Counties and the League of California Cities, as well as the project's sponsors:
Best, Best and Krieger
Burke, Williams and Sorensen
Hanson Bridgett
Kronick, Moskovitz, Tiedemann and Girard
Meyers Nave
Richards, Watson and Gershon
These sponsors share the Institute's commitment to providing decision-makers with solid information to enhance local land use decision-making.
---
This book is out of print and is in electronic format only
Related Links