Fiscal Matters & Labor Negotiations: Practical Solutions For Public Agencies During COVID-19
Webinar Description
Cities, counties and special districts are facing numerous challenges in 2020. From protecting the public's health and safety to providing consistent essential and administrative services, local government leaders have many decisions to make during these difficult days. In this webinar, experts in public finance, fiscal preparedness, and labor negotiations will explore the financial challenges California local governments face and share practical solutions and steps public agencies can take to mitigate problems and create practical solutions during COVID-19.
Panelists
Jon Holtzman, Founding Partner at Renne Public Law Group
Kurt Wilson, Consultant and Former City Manager
Russ Branson, Founder of Russ Branson Consulting
Recording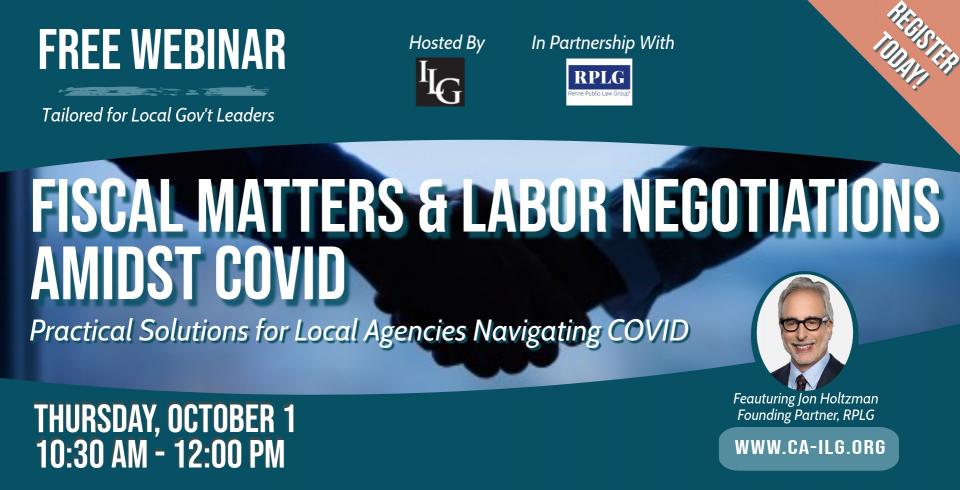 Materials
Final Presentation for Fiscal Matters & Labor Negotiations: Practical Solutions For Public Agencies During COVID-19
Webinar Partnership
This webinar is hosted by ILG in partnership with Renne Public Law Group.
We are grateful to our affiliate organizations — the League of California Cities, the California Special Districts Association and the California State Association of Counties — for their support of and participation in ILG's many training and education activities.