EPA Climate Showcase Communities
EPA's Climate Showcase Communities Program helps local governments and tribal nations pilot innovative, cost-effective and replicable community-based greenhouse gas reduction projects. El Cerrito, Albany, Piedmont and San Pablo received a grant to form the Small Cities Climate Action partnership, in which all four cities work together to share their work, processes, and best practices as they implement various energy efficiency projects and policies.
Fifty Climate S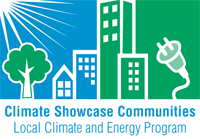 howcase Communities across the United States are leading projects in energy production, residential and commercial energy efficiency, waste management, transportation and land use that reduce energy use and save money. Visit the website to learn about the five projects in California- in Humboldt, Alameda and Sacramento County, the City of El Cerrito and the Santa Ynez Band of Chumash Indians.