Engaging Immigrants and Refugees in Learning About California's Local Government Agencies
ILG Connects with Farsi & Russian Speaking Audiences
The Institute for Local Government presents regularly on the the basics of local government to diverse audiences. Through our curriculum, Picture Yourself In Local Government, ILG educates diverse audiences on the functions, roles and responsibilities of special districts, cities, counties and schools.
In 2020, ILG staff engaged with immigrant and refugee groups in northern and southern California to support Russian- and Farsi-speaking communities. Staff conveyed local government functions, key stakeholders, and how the community members can actively participate and engage in decision-making.
The workshops helped participants explore how to solve a neighborhood need, how to find a county supervisor's district and contact information, how to access job training services, and more.
Included here is a video from our workshop for the Slavic Community of Sacramento. The workshop was conducted in English and Russian.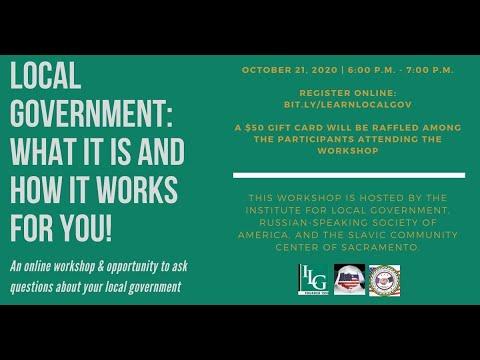 If you are interested in a workshop for your community organization reach out to info@ca-ilg.org for more information.