Emeryville Turns an Abandoned Card Club Into New Affordable Residential Opportunity
The Community Before
In 1998 the King Midas Card Club was nothing more than a rundown, boarded-up building along Emeryville's San Pablo Avenue.
While the surrounding area was undergoing a renaissance, this corner at San Pablo Avenue at 40th Street was an eyesore, with a parking lot that had become a dumping ground. The club was shuttered after failing to pay taxes and the owners declared bankruptcy.
The Community Now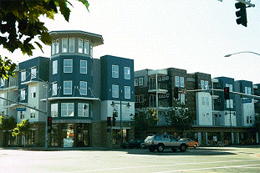 The Emeryville Redevelopment Agency acquired the property for residential uses. Andante opened its doors in 2005. Twenty percent of its 125 condominiums are set aside for families that meet affordable housing guidelines, with half of these units further underwritten for low-income families who can now buy a new home in Emeryville for under $120,000.
The project involved:
Building 25 units of affordable housing
Creating 15,000 square feet of retail geared toward neighborhood needs
Providing 100 construction jobs and 60 permanent jobs

Related Links