Daly City Cleans Up Contamination and Develops a Mix of New Retail Space and Affordable Housing Units
The Community Before
This blighted site, which included an abandoned gas station and warehouse, was located along two main streets into Daly City.
It was heavily contaminated making soil removal and remediation necessary before construction could begin. Daly City's Redevelopment Agency wanted to improve this underused area.
The Community Now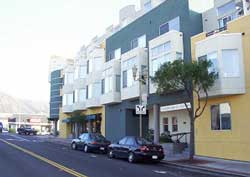 Daly City's Redevelopment Agency worked to turn this area into an exciting mix of retail shops and affordable housing. Using redevelopment funds to leverage a variety of funding sources- such as low income housing tax credits and HUD funds- the agency was able to attract investment into the area and turn a neglected eyesore into a vibrant community that people are now proud to call home.
The project involved:
Creating 47, 100% affordable units, including some that are fully accessible and adaptable for the handicapped
Providing 13,300 square feet of retail space on a 17,000 square foot urban site
Building a 3,400 square foot child care center
Adding common facilities, including a community room, manager's office, laundry and tenant storage facilities and a courtyard and open spaces
Related Links