City Managers Use Library Setting to Consult Public About Shared Services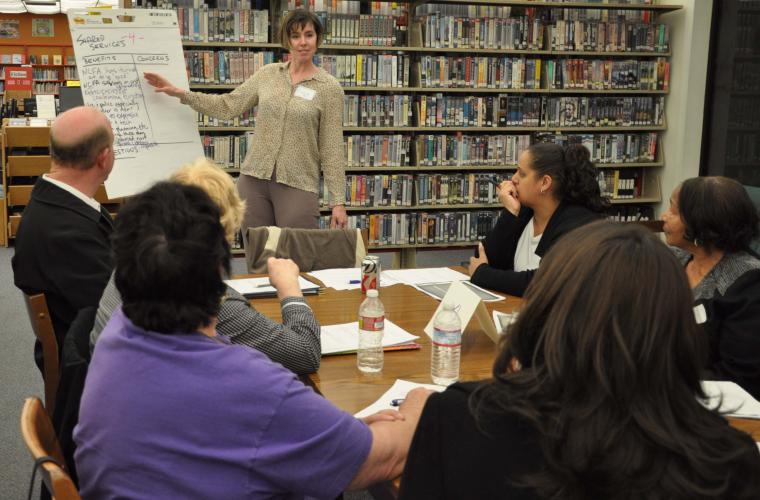 Community: San Mateo County
Population: approximately 700,000
Summary
On September 8th and 13th of this year, more than a hundred residents from cities across San Mateo County, California came together at a local library to discuss the idea of shared services, a collaborative option that many local governments are considering as a response to limited revenues.
At each evening meeting, fifty residents spent three hours, learning about the demands on local municipal budgets and the potential for services to be shared in areas such as police and fire protection, code enforcement, recreation and more.
In facilitated small groups, participants discussed the benefits and challenges of sharing local services, and then offered their views and ideas as points of guidance for local officials pursuing these options. City managers, finance directors and other city staff attended the two dialogues to share information, answer questions and listen to the public's views.
Process Highlights & Results
This project was particularly noteworthy for several reasons:
These were multi-jurisdictional dialogues, with residents from a number of cities involved and offering their collective input to local officials also representing multiple cities.
Five city managers (from Brisbane, Burlingame, Daly City, Redwood City and San Mateo) worked together to support the design, recruitment and logistics of the dialogues.
For the most part, participants were not typical public meeting-goers. They were recruited differently by each participating city manager's office, with sources ranging from voter lists to local citizen academy graduates.
Rest of the Story…
Rather than a definitive statement about the community's perspective on shared services, these sessions were designed as an initial exploration of how best to engage the public on this issue.
The topic of sharing services can be complicated and sensitive – and some consider it too technical or political as a subject for deliberative engagement. However, these sessions proved very successful, and the tone of the discussions was constructive and hopeful. Participation was high in both the large and small groups, and everyone stayed for the full three hours.
The participant evaluations were positive, with comments such as:
"The issues are complex but there are many good ideas for dealing with them."
"There is a lot of fear – and most if it stems from lack of knowledge of how already existing merged services have played out."
"Other citizens' concerns were excellent and really made me think."
Related Links