Level Up Your Leadership Training
Master Your Role as an Effective Elected Official & Community Leader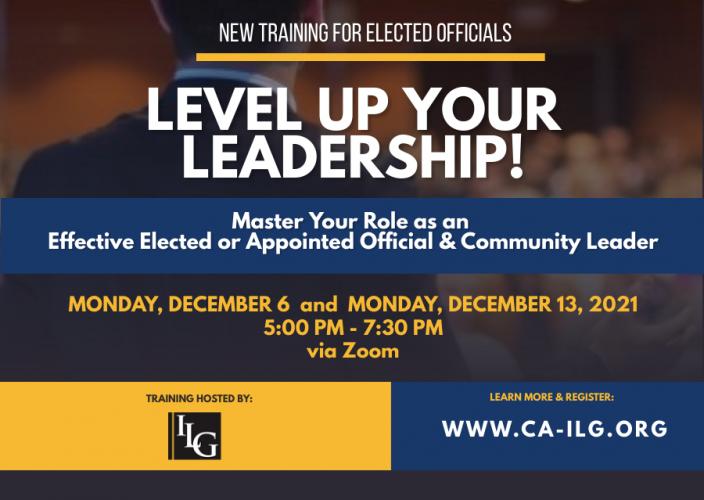 Monday, December 6 and Monday, December 13
5:00 pm -7:30 pm
Two Evenings!
Do you have an exceptional and effective council or board?
Being an elected official in local government is not an easy task. In order to navigate the shifting landscape of local government leadership, elected officials must be equipped to lead through changing, and often challenging, times. If you want to learn how to level up your leadership and master the challenging art of being an effective public servant, register for ILG's new interactive, virtual leadership training. In this training, you'll learn tools and strategies to help local government leaders govern more effectively and better engage with fellow electeds, agency staff and the community.
ILG's training will help you master the art of public service by equipping you with practical governance tools for exceptional leadership and governance.
This comprehensive training is open to, and specially designed for, elected leaders from California cities, counties and special districts.
TRAINING BENEFITS:
Understand key attributes of high-performing councils and boards
Gain practical tools to govern more effectively
Learn strategies and techniques to help your agency develop an exceptional council or board
Gather effective techniques for public meetings
Learn strategies to promote civility and respond to diverse viewpoints
Understand various roles and responsibilities of the governing body, your agency's administrator and staff
Explore community engagement strategies and collaborative decision-making processes
Share real-world experiences with other elected officials,
Learn good governance tools and review examples of exceptional leadership
Join a cohort of local leaders for peer-to-peer networking and mutual support
Cost: Just $400 per person.
Space is limited. Register today!

Related Links