CalAIM 101
A Primer on California Advancing and Innovating Medi-Cal
A CSAC Finance Corporation Webinar in Partnership with Health Net + California Health & Wellness | Hosted by the Institute for Local Government
About this Webinar
CSAC Finance Corporation is pleased to partner again with Health Net & California Health & Wellness to offer all county supervisors, staff and others an opportunity to learn more about the California Advancing and Innovating Medi-Cal (CalAIM) initiative in thisCalAIM 101 webinar.
CalAIM is a new, multi-year initiative by the California Department of Health Care Services implementing broad delivery system, program, and payment reform across the Medi-Cal program. All counties will play a role in CalAIM's system transformation.
Learn about the key features of CalAIM including Enhanced Care Management (ECM) benefit and in lieu of services (ILOS) offerings. ECM & ILOS are key features of Medi-Cal's framework for addressing social determinants of health and improving health equity statewide. Medi-Cal managed care health plans (MCPs) will be responsible for administering both ECM and ILOS in close collaboration with counties.
Speakers
Martha Santa Chin, Government Programs Officer for Health Net of CA & California Health & Wellness
Sydney Turner, Manager of Health Policy for Health Net of California & California Health & Wellness
Brianna Lierman, Regional Vice President, Centene
Video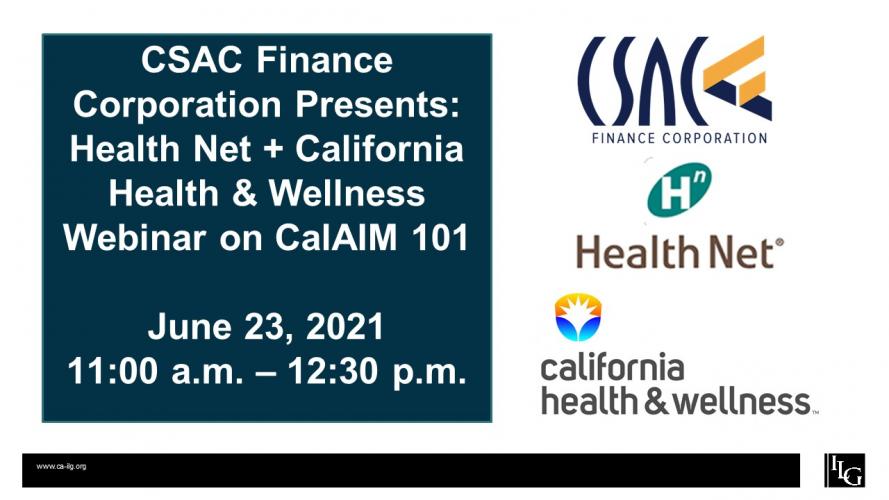 Related Links