West County Full Services Community Schools
School, County, City and Non-Profit Resources Working Together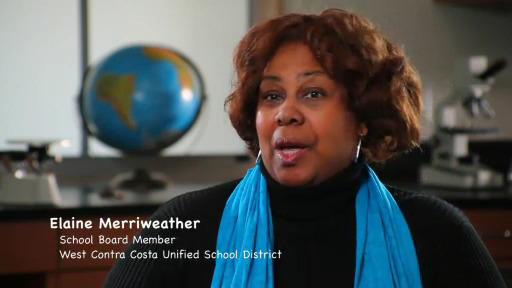 Click on this link to watch a video about the West Contra Costa Unified School District's Full Services Community Schools featuring students, staff and officials involved with the initiative including Elaine Merriweather, School Board Member and John Gioia, Contra Costa County Supervisor. The video was produced with in-kind Communication Program Support from Kaiser Foundation Hospitals (KFH), Northern California Community Benefit Program Division.
West Contra Costa Unified's multi-year initiative is focused on achieving better academic and health outcomes for youth and families by implementing full service community schools at sites across the West Contra Costa County Unified School District. This effort is a collaboration of the school district, the county, local cities, community-based organizations, and local residents.
With the support of the California Endowment, the process is currently in the planning phase, with early efforts focused on two pilot school families: Richmond and Kennedy.
West Contra Costa Unified School District (WCCUSD) has elevated full-services community schools (FSCS) as a district-wide priority that aims to better coordinate and align public and private partnerships and resources to meet the comprehensive needs of students and serve the larger community. A confluence of factors over the past few years has set the stage for establishing a formal commitment to FSCS across multiple systems and community partners. One is the Richmond Health Equity Partnership (RHEP), a collaboration launched in 2012 between the City of Richmond, Contra Costa Health Services, WCCUSD and UC Berkeley's Center for Cities and Schools to pilot an FSCS approach as part of a larger effort to advance overall health and health equity through policy and systems change. WCCUSD is also partnering with the City of San Pablo in implementing the San Pablo Community Schools Initiative (PDF). The FSCS initiative is a key focus of Healthy Richmond in their efforts to provide access to quality healthcare in Richmond.
The FSCS initiative builds upon existing health care and social service resources in WCCUSD schools. In fact, WCCUSD already has two FSCS campuses: Walter T. Helms Middle School and El Cerrito High School.
In collaborative partnership with Building Blocks for Kids Collaborative, the school district has begun to engage parents groups as leaders in the FSCS process. With a tiered collaborative approach of cities working with schools, the support of California Safe and Supportive Schools and the Middle School Climate Alliance allows FSCS to target a positive climate in schools and in the community for all children.
The FSCS to date:
WCCUSD has passed a resolution identifying FSCS as a district-wide priority
Established MOUs with the Cities of Richmond and San Pablo
Identified shared outcome targets with County Supervisor John Gioia and three other cities in the WCCUSD service area
Forged a data sharing agreement with the County
Convened the FSCS Steering Committee, Community Leadership Teams, and School Site Teams
Conducted a school programs inventory
Studied key lessons from FSCS initiatives in other communities
In addition to the strategic work of the FSCS, the district operates a School Based Health Center (SBHC) on each of the six high school campuses. Operated in collaboration with local agencies and CBOs, these SBHCs offer mental health services, medical services, and youth development programs. Within the last year:
1441 students received medical care
447 youth received individual and group counseling services
SBHCs are a key starting point in the conversion to Full Service Community Schools. As such, WCCUSD is reconceiving of them as Full Services Community Health Centers (FSCHCs).
Visit westcountyfscs.org for more information about this community schools partnership effort.
Related Links