City of San Rafael Wins First-Ever Silver Beacon Award
September 2013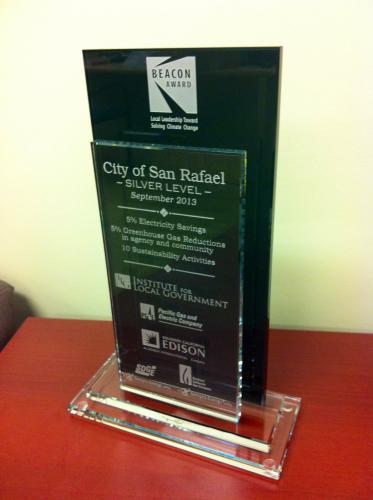 The Institute for Local Government and the Statewide Energy Efficiency Collaborative honored the City of San Rafael with a Beacon Award for Local Leadership toward Solving Climate Change. The award was presented last week during the 2013 League of California Cities Annual Conference in Sacramento.
The first of its kind in California, the Beacon Award recognizes cities and counties that achieve measurable greenhouse gas reductions, energy savings and implement sustainability best practices. San Rafael is the first-ever winner of a Beacon Award at the Silver Level, which celebrates the following achievements:
5 percent Agency Energy Savings (2005–2011)
5 percent Greenhouse Gas Reductions in Agency and Community (2005–2010)
10 Completed Sustainability Best Practices
"San Rafael's accomplishments are a testimony to the effectiveness of voluntary climate action at the local level," said League of California Cities Executive Director Chris McKenzie who presented the award. "Congratulations to the city of San Rafael and its residents for your leadership and commitment to addressing climate change."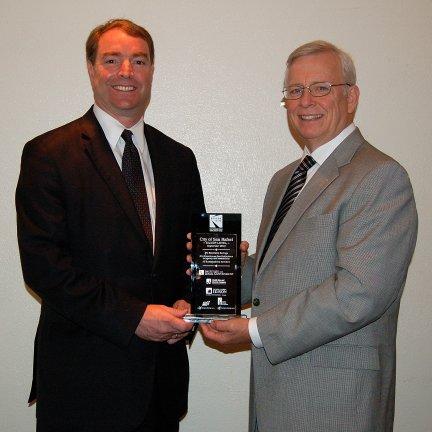 San Rafael's greenhouse gas reductions are the equivalent of taking nearly 7,000 passenger vehicles off the road for one year. The city also saved enough electricity in its own facilities to power approximately 44 average California homes for a year.
"We are pleased to support the City of San Rafael in their efforts to become a leader in energy efficiency," said Pacific Gas and Electric Company Manager Randy De Caminada. "We applaud the city for this truly important commitment to the environment and the community."
"The City of San Rafael is delighted to have the distinction of being the first Beacon Award winner in California. This is strong validation of our community's sustainability efforts," said San Rafael City Council Member Damon Connolly. "We're proud of the great progress that's been made and we will continue to work closely with our community and partners in order to achieve our greenhouse gas reduction target of 25 percent by 2020 and other sustainability goals."
A local presentation of the award is scheduled for the Oct. 21, 2013 meeting of the San Rafael City Council at 7:00 p.m.
Related Links