Understanding the Habitat Conservation Planning Process in California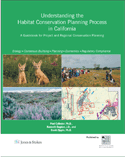 Designed to provide those who are involved in projects or planning efforts an understanding of the regulations and issues affecting protected species, focusing on the requirements for habitat conservation plans, and advice and recommendations regarding best approaches to project planning and regional conservation planning for protected species.
This publication is only available electronically. See a link to the PDF of this publication at right for free download. (Copyright 2004)
The Institute is grateful to Jones & Stokes for its generous support for this publication.