Understanding the Basics of Local Agency Decision-Making / Noción de los Aspectos Básicos de la Toma de Decisiones en las Agencias Locales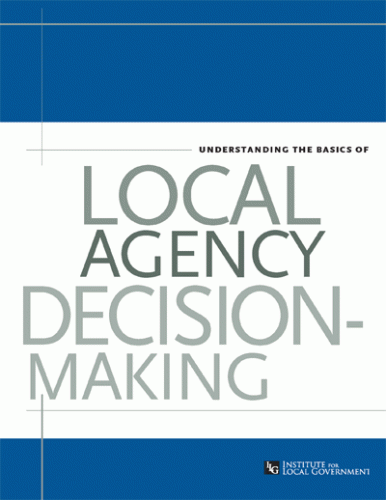 Do you sometimes wish there were an easy way to explain how decision-making occurs at the local level? Such nuts and bolts are the subject of
Understanding the Basics of Local Agency Decision-Making
.
Designed to assist newly-elected officials, newly-hired staff, the media, citizens academies, community groups and others, this guide's goal is to provide a plain-language overview of how local government decision-making works.
It addresses the key questions about local agency decision-making processes, such as:
The Unique Aspects of Public Agency Decision-Making
Who Does What
How are Decisions Made
Special Issues
This guide provides a starting place for those who want to understand more about local government and its decision-making processes. For that reason, the guide also includes a long list of resources for further information.
The Institute also welcomes links to its materials from agency websites.
English and Spanish versions are available for download at the right. These publications are only available online.