Campaigning During COVID
Practical Solutions for Fielding an Election & Running a Campaign During COVID
Webinar Description
Effective elections and transfers of power in decision-making are key to maintaining public trust in local government. During this webinar, local government elections officials and experts from the Fair Political Practices Commission will share best practices from the field about elections and campaigning during COVID-19. Elected officials, clerks, and local agency staff from cities, counties, and special districts are encouraged to participate and share their questions and ideas for creating the new normal in the 2020 elections.
Panelists
Shannon Bushey, Registrar of Voters, Santa Clara County
Alana S. Jeydel, PhD, Manager, Education Program, Fair Political Practices Commission
Nora Pimentel, Assistant City Clerk, City of Santa Clara
Video Recording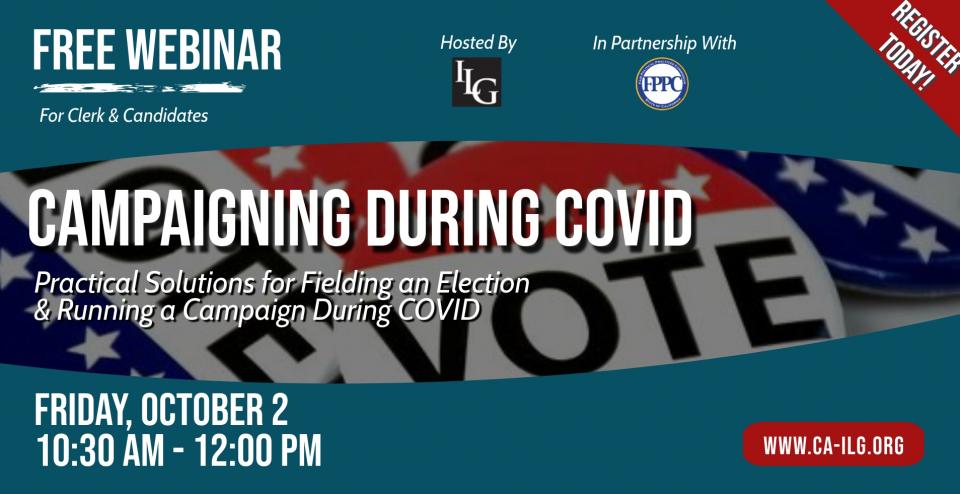 Materials
Final Presentation for Campaigning During COVID: Practical Solutions for Fielding an Election & Running a Campaign During COVID
Webinar Partnership
This webinar is hosted by ILG in partnership with the Fair Political Practices Commission.
We are grateful to our affiliate organizations — the League of California Cities, the California Special Districts Association and the California State Association of Counties — for their support of and participation in ILG's many training and education activities.