Visalia Begins Innovative Upgrade to its Water Conservation Plant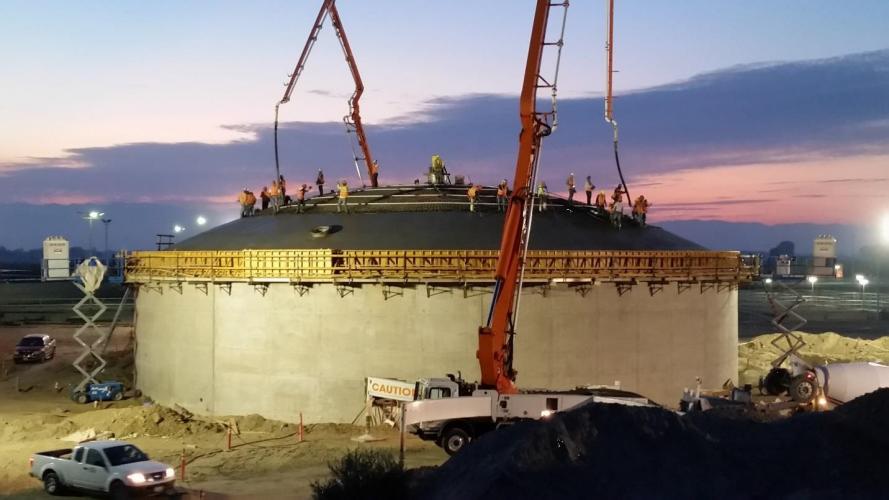 The City of Visalia is in the process of a massive upgrade to its water conservation plant that will create an opportunity to support regional farmers and help sustain the city's water resources.
The project includes construction of a 1 megawatt solar installation and a renewable power generation system that uses biogas (produced a byproduct from the wastewater treatment) to power a one megawatt generator. The upgrade will enable the plant to treat the 12 million gallons of wastewater it processes per day to a higher quality that meets state and federal standards required for irrigation use.
Once the upgraded facility is online in April 2017, Visalia will be able to complete an innovative water exchange agreement. The city will keep some of its treated water to irrigate its golf courses and a regional park, but a large portion of it, approximately 13,000 acre feet annually, will be sent downstream to the Tulare Irrigation District for unrestricted crop irrigation by farmers. In return, the district will deliver an annual average of 6,500 acre feet of potable water from its federal allotment upstream to Visalia which can then recharge the groundwater under the city.
Additionally, Visalia plans to construct approximately 100 acres of new recharge basins, which will be aesthetically incorporated into a future 200 acre regional park. Visalia plans to apply for Proposition 1 funds to construct the recharge facilities.
At $140 million, it's the largest capital project in the city's history, which is being funded through low interest loans from the Clean Water State Revolving Fund, a combination of state and federal grants and incentives from SCE.
Related Links