Union City Recycles Food Scraps and Gives Away Free Compost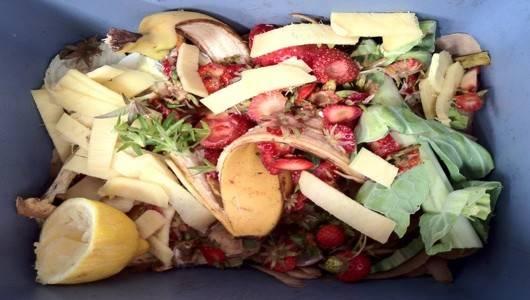 Community: Union City
Population: 70,436
Summary
Union City, located in Alameda County in the San Francisco Bay Area, adopted a food scrap collection program for residents and businesses in order to reduce landfill waste and increase composting. The program reaches out to community residents and businesses to provide supplies and on-going training, subsidies and other support on food recycling and composting. The city also sponsors an annual event to give away free compost created through the food scrap recycling program. Last year the program diverted more than 9,000 tons of waste from landfills and gave away 3,000 to 4,000 bags of compost to residents.
Healthy Neighborhoods Connection
Collecting and composting food scraps educates residents and businesses about waste reduction and soil health. Using compost in the garden or landscaping improves the health of the soil and plants and helps clean up polluted soil. It reduces the need for pesticides, water and fertilizers and improves the quality of the environment in the community overall.
Program Highlights
Collects residential and business food scraps curbside or on-site, reducing landfill waste.
Provides site assessment, resources, education, support and subsidies to encourage business and residents to compost.
Gives away free compost on an annual basis to demonstrate composting results, distribute compost, and educate community members about food recycling.
Lessons Learned
Composting is sometimes considered by residents as the "icky" part of recycling. Ongoing support and resources such as signage, bins and training help educate and familiarize residents and business owners with composting and normalize it as an acceptable recycling practice.
The city currently offers a subsidy of 70% payment of solid waste removal to participating businesses. This is an important aspect of the program and allows businesses to save money and make a successful transition from landfill to compost.
Resources to Learn More
The Rest of the Story…
Prior to 2005, Union City managed green waste by picking up yard waste from residences every other week. In 2005 the city transitioned from yard waste only pick up to a residential curb-side composting program and increased pick-ups to every week. Residents were also offered a compost bin and education and support to recycle their food scraps. Last year residents recycled 8,000 tons of food scraps for compost. One major component of the program is an annual compost giveaway every spring. Community members are encouraged to pick up one or two bags of free compost made from the city's collected food waste program. This giveaway educates residents about composting and improves soil amenities in the community. It is a very popular program and last year gave away 3,000 to 4,000 bags of compost.
In 2009, Union City added commercial business to compost services, with restaurants as their primary target. The city contacted local businesses by phone, knocking on doors, and distributing promotional materials and website information. The staff also offered testimonials and instilled a sense of competition among local businesses by adding business logos to their "Look Who's Composting in Union City" flyers. Participating businesses can initiate the process with a site assessment that determines how many bins and what type of signage and other accommodations are needed. The city also provides on-site education and training about how to compost. It continues to monitor the food scrap bins, let the businesses know if there is contamination, and offer ongoing support and training if needed. Since September 2009, 50 businesses have implemented the program and the city has conducted 76 site assessments. Last year, 1,100 tons of organic material from restaurants was diverted from the landfill.
Union City works with contractors to deliver composting services and city staff receives consultation on program development and maintenance from a local environmental science consulting firm. The primary source of funding for the program is through import mitigation funds, or money that is gained by allowing out-of-town waste into the landfill. The program also receives funding from stopwaste.org, the Alameda County Waste Management Authority and the Alameda County Source Reduction and Recycling Board's joint effort to reduce the waste stream in the county. One of the most important tools for the program is a subsidy given to business participants. Currently, the city pays 70% of the solid waste bill for participating businesses.
The biggest challenge that the city faces is convincing residents and businesses to change current habits. All types of recycling have taken time and education to gain widespread adoption – such as aluminum, paper and plastic recycling in the last 20 years. As people learn more about composting and get more comfortable with it, the city expects more residents and businesses to participate. City-sponsored food scrap recycling and compost give-away programs, such as Union City's, are key to achieving widespread familiarity and adoption of food recycling and composting.
Related Links