Sunnyvale Greening Fleets
Community: Sunnyvale (Santa Clara County)
Population: 140,450
Summary
The City of Sunnyvale installed solar photovoltaic panels on one of its fire-rescue units to power the vehicle's electric system while the vehicle is parked at an emergency scene. The goal is to explore the effectiveness of using solar photovoltaic panels on emergency vehicles to power the vehicles' electric system, instead of leaving the engine idling.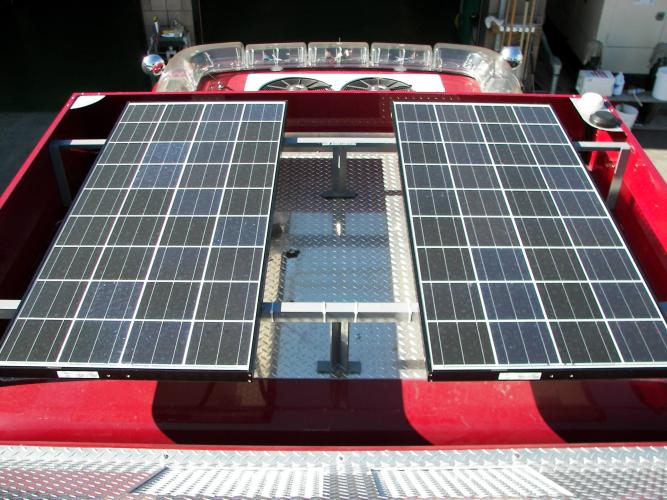 Program Highlights
The city is testing solar panels on one fire-rescue vehicle.
Panels installed April 2010 to be evaluated end of summer 2010.
Cost approximately $400 from fleet operations budget.
Lessons Learned
Exploring new technologies does not necessarily require large scale efforts or costly investments.
The Rest of the Story…
The City of Sunnyvale is exploring the value of solar photovoltaic panels for reducing idling of its emergency vehicles. The city installed two panels on the roof of a fire-rescue unit. The panels recharge the vehicle's battery while the vehicle is parked at the scene of an emergency. The battery then supports the vehicle's emergency lights and other electrical needs without running the engine.
The experiment will look at what systems the solar panels can realistically support in the field, such as air conditioning, computers, and radio equipment, in addition to the unit's operational lights. If the panels are effective, their use could reduce fuel consumption by emergency vehicles. This would reduce the cost of operating the vehicles, as well as reducing the vehicles' emissions.
The city plans to evaluate the effectiveness of the panels after three or four months of operation.
Compiled June 2010
This case story was prepared with generous support from AAA Northern California, Nevada & Utah.
Related Links