Santa Cruz Implements "Granny Flat" Program
Like many small cities across the country, Santa Cruz is struggling to maintain its small-town character despite enormous growth pressures.With few new development sites left, the city has turned to its primary asset for help – its single-family neighborhoods, where it is allowing property owners to develop accessory dwelling units, commonly known as a "granny flat.
Community Profile
Although Santa Cruz follows "smart growth" principles by encouraging greater density along transportation corridors, more housing is needed. The city has one of the least affordable housing markets in the country for both home buyers and renters. The availability of afforda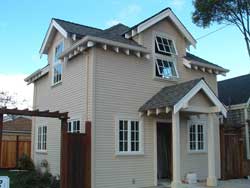 ble housing is crucial for Santa Cruz to retain both its diverse neighborhoods and sense of community.The result is an innovative Accessory Dwelling Unit (ADU) Development Program. An ADU, commonly known as a "granny flat," is an additional rental unit on a single-family lot. It may be attached or detached from the primary residence.
Taking Advantage of an Existing Resource
This unconventional "lot-by-lot" development program sees backyards and garages as opportunities for new rental housing. And because 95 percent of Santa Cruz's homes are within a half-mile of public transportation, this program also supports smart growth. With ADU development, affordable rental housing is built at no cost to the city, renters have more diverse housing options and homeowners can earn extra income to help with their mortgage: a win-win-win situation.
Program Overview
Santa Cruz's ADU Development Program has four components:
1. Zoning Incentives. Under most zoning, three cars typically use at least 25 percent of a 5,000-square-foot lot. To help provide space for ADU development, Santa Cruz eliminated covered parking requirements (thus freeing up the garage) and allowing up to three parking spaces in the driveway/front yard setback. Space once reserved for cars can now be used for housing.
2. "How To" Manual and Design Prototypes. Most homeowners are hesitant to build an ADU because they lack knowledge and experience. To help homeowners become developers, the city created a "how to" manual that goes step by step from designing the ADU through becoming a landlord. To further help with design, the city engaged seven architects to create a range of ADU prototypes, which were then pre-approved by the city's Planning Department. Sharing these designs saves the homeowner money, speeds up the permit process and results in well-designed ADUs.
3. Financing. The expense of building an ADU stops many homeowners who are already strapped with a mortgage. In exchange for affordability restrictions (the owner agrees to make the housing affordable for low-income households), the city offers an ADU Loan Program in partnership with a local credit union and a Development Fee Waiver Program. In addition, a Wage Subsidy Program, linked to an existing construction jobs training program, can further reduce costs.
4. Community Education. To both educate the public about ADUs and hear neighborhood concerns, the public was invited to a series of five workshops. More than 400 people attended at least one session. The local newspaper featured extensive coverage of each workshop and ran a series on the ADU prototypes. A video of the workshops appeared on the local public television station.
Anticipated Results
Though in its infancy, the ADU program has resulted in dramatic change. Prior to implementing the program, Santa Cruz averaged less than eight ADU building permits per year. Since the fall of 2002, when the zoning change came into effect, the average has jumped to eight ADU permits a quarter. Although these numbers may not sound like much, the cumulative effect can be considerable. As momentum builds, the city could easily average 10 or more units per quarter. Over a five-year period this equals a 200-plus unit development, which is significant for a small city of 56,000.
Serving as a Model for Other Communities
Perhaps the most useful lesson that other communities can learn from Santa Cruz is the importance of removing obstacles in the permitting process. By supplying a number of pre-approved prototypes and a "how to" manual for homeowners, the city streamlined the often cumbersome and costly procedure of planning and developing an ADU, which is frequently overwhelming for individuals. The other practical aspect of removing obstacles is reflected in the city's community education and outreach effort, which stimulated discussion and built widespread support for the ADU program.
Related Links