El Cerrito Transforms Urban Highway into Main Street with Pedestrian and Environment-Friendly Amenities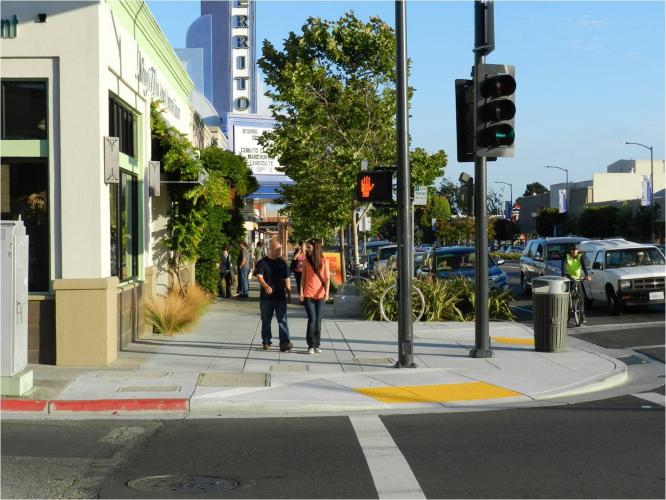 Community: El Cerrito
Population: 23,549
Summary
The City of El Cerrito in the East Bay of San Francisco is redesigning the main street of their city into a bicycle, pedestrian and environmentally friendly streetscape.San Pablo Avenue is the center of El Cerrito's economic and cultural life; however it is also a state highway that runs through nine East Bay cities, including San Pablo, Oakland and Richmond. El Cerrito has been working since 2007 to preserve the character and promote economic development of San Pablo Avenue while also creating a safer and more sustainable environment. As a state highway, any changes to the street design and operation require the approval of Caltrans. Fortunately, Caltrans takes a "Complete Streets" approach to transportation and was open to new ideas. Working in collaboration with Caltrans and other regional and local agencies, El Cerrito, successfully established an innovative and unique community space while saving water and energy and promoting active transportation. They are recognized as national leaders for their redesign of San Pablo Avenue and for their dedication to health and sustainability.
Healthy Neighborhoods Connection
Active transportation and environmentally friendly designs improve community health by reducing emissions of pollution and greenhouse gases. Increased walking and biking improves individual fitness, decreases obesity and reduces the risk of cardiovascular disease. By redesigning San Pablo Avenue, El Cerrito is creating a mixed-use environment with pedestrian scale design features that is creating more livable neighborhoods.
Program Highlights
Complete street goals and designs that have improved access for pedestrians and bicyclists through better safety features and infrastructure.
Improvements to landscaping including turf replacement with plantings that save water and energy use and the installation of rain gardens that filter and drain storm water.
Energy efficiency updates and improvements with a new LEED-certified City Hall building and new LED streetlights.
Economic development opportunities downtown optimized by creating a unique identity for El Cerrito's main street. Associated improvements include increased public art displays, additional historical markers, a remodeled historic theater, and improved human scale amenities.
Lessons Learned
The first step is to find models available for what you want to do, and then use their experience to help you with your project.
Sometimes you are the first one to do a project, and then you must be willing to experiment and know that your efforts won't always work.
Collaboration is essential. In this case, Caltrans worked in partnership with the city to design and install the new streetscape features; the city didn't get all the changes they wanted, but they were able to work effectively with other agencies to agree on a set of changes that have transformed the streetscape.
Seek public input and participation, and get community buy in, but also be prepared for the fact that not everyone in the community will like the project.
Continued follow-up and education is often necessary to make your project successful.
Implementing project features slowly, or one at a time, helps maintain momentum and avoids the risk of overextending resources.
Resources to Learn More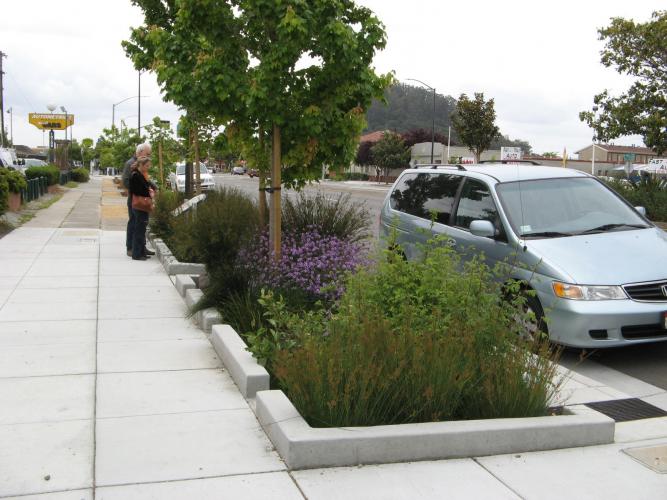 The Rest of the Story…
San Pablo Avenue is the heart of El Cerrito, functioning as their Main Street. However, it is also a state highway shared with other East Bay cities, causing irregularities and lack of cohesion in planning and design. In 2009, El Cerrito and the City of Richmond cooperatively released draft of a Specific Plan for San Pablo Avenue (not yet adopted) in order to enhance economic development opportunities and improve design features.
The Specific Plan builds on work that El Cerrito has done in cooperation with CalTrans since 2007. The San Pablo Avenue Streetscape Improvement Project's goals are "to create a distinctive sense of place, improve the walking environment, enhance transit stops, provide better landscaping, and increase pedestrian safety and accessibility."
Some of the design features that have been added to San Pablo Avenue since 2007 are:
Increased number of trees: The City planted 300 trees along the side or median stretching through the entire roadway
New turf grass in traffic median with low-water, Bay friendly plantings and reduced water use by one million gallons a year
A demonstration rain garden to replace existing sidewalk. Storm water passes through a filtration system that cleans storm run-off with sand before it passes through the storm drain.
High-pressure sodium street lights with LED streetlights, saving 63,000 kWh/year in energy
Improved pedestrian and bicycling facilities, including:

pedestrian bump-outs (or narrowing of crosswalk)
countdown pedestrian crossing signals
in-pavement flashing crosswalks
increased bike racks
increased benches
increased recycling bins
crossing indicators for blind people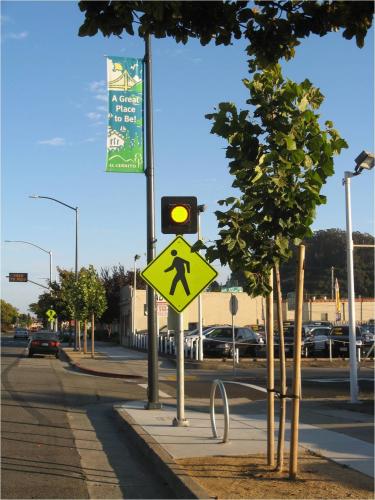 El Cerrito also integrated features to spotlight the neighborhood's culture and identify and establish El Cerrito as a distinct place along the Avenue. These features include the installation of wayfinding banners and signage, public art and historic markers in the sidewalk. Additionally, in 2006 they renovated and rehabilitated the Cerrito Theater, also on San Pablo Avenue, which is a historic landmark that had fallen into disrepair. The City even hosted a celebratory Spring Fling street party, to celebrate the work and changes to the streetscape.
This street improvement project is being implemented in phases, in part to keep the momentum going, and in part due to funding and permitting issues. The first phase included wayfinding signage and banners (2006) and continued with completion of the median landscape renovation (2007-08). The major streetscape enhancements were completed in October 2011. Through a local "1% for Art" program. public art is being installed this year.
The project funding came from a variety of sources:
$4,200,000 from City of El Cerrito Redevelopment Agency
$351,000 from Bay Area Air Quality Management District – Transportation Fund for Clean Air
$1,800,000 from Metropolitan Transportation Commission – Transportation for Livable Communities Grant
$215,000 from EPA-State Water Resources Control Board (for rain gardens, including monitoring)
$505,000 from Contra Costa Transportation Authority – Transportation for Livable Communities Grant
El Cerrito's streetscape project serves as a model of how complete street planning and design enhances health, environment and livability of a community. In June 2012, El Cerrito won the International City/County Management Association's Program Excellence Award in Community Sustainability for the San Pablo Avenue Streetscape Project. They also received awards in Community Health and Safety, Community Partnership and Strategic Leadership and Governance.
The San Pablo Avenue project is one component of El Cerrito's larger sustainability commitment. In 2008, the city erected a new, LEED certified City Hall implementing water conservation initiatives including high efficiency toilets, waterless urinals, faucet aerators. Additionally, they planted 14,000 square feet of low-water, Bay Friendly landscaping and installed an irrigation-only meter and an in-line drip irrigation system to maintain the grounds. Between 2001 and 2008, they were able to decrease their overall municipal water use from 26,120,000 gallons to 18,684,000 gallons – a savings of 29%.
Additionally, El Cerrito is participating in the Institute of Local Government's Becaon Award Program, a statewide program recognizing cities and counties that are "working to reduce greenhouse gas emissions, save energy and adopt policies and programs that promote sustainability". El Cerrito also shows their commitment towards health and sustainability as a member of ICLEI Local Governments for Sustainability, Healthy Eating Active Living (HEAL) Cities campaign and as a U.S. Conference of Mayors Climate Protection Agreement signatory. Crafting policies and design for community health, sustainability and livability has reinvigorated El Cerrito's economic core and is spreading throughout the region as they work with Richmond to continue planning for a better San Pablo Avenue.