Culver City Greening Fleets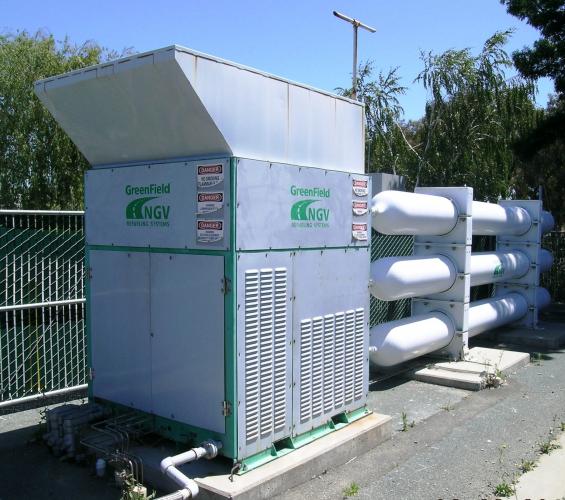 Community: Culver City (Los Angeles County)
Population: 40,657
Summary
The City of Culver City began converting its fleet from primarily diesel and gasoline to compressed natural gas (CNG) in 1998. In 2010, the city's fleet includes 605 on-road and 15 off-road vehicles used by all city departments. A newly remodeled and expanded CNG fueling station supports the CNG vehicles. Federal grants and regional air quality funding sources provide funding for vehicle purchases and construction of the fueling facilities.
Program Highlights
Compressed Natural Gas fleet acquisition started in anticipation of the South Coast Air Quality Management District's new fleet rules.
The city's Equipment Maintenance and Operations facility was completed in 1999. It provides a full service facility with staff trained to maintain the more complicated CNG equipment technology.
In 2009, Culver City received national recognition for its green fleet accomplishments.
Lessons Learned
To be successful, conversion to alternative-fueled vehicles needs political support.
Alternative-fuel vehicles have a higher capital expense, but the long term benefits, especially fuel cost savings, outweigh the costs.
A full service maintenance facility provides support to the alternative-fueled fleet.
Outside funding from air quality programs helps reduce the agency's upfront costs to purchase alternative-fuel vehicles and support infrastructure. Planning ahead to apply for these grants and other funds is important to ensure success.
Resources to Learn More
The Rest of the Story…
In 1998, the City of Culver City began the conversion of its fleet vehicles from gasoline and diesel to compressed natural gas (CNG). CNG is the city's fleet fuel of choice because the fuel was determined to be readily available, is cost effective, produces lower emissions, and reduces dependence on foreign oil.
The city currently has 605 on-road and 15 off-road CNG-fueled vehicles including refuse and public works trucks, transit buses, standard autos and other fleet vehicles. In 2004, Culver CityBus became the second 100 percent CNG-fueled transit system in the state. Approximately 80 percent of the city's refuse fleet is CNG-powered; 20 percent runs on diesel fuel. Eighty percent of the city's heavy-duty fleet operates on CNG fuel. All city departments use CNG vehicles, except for some police and fire vehicles used for mutual aide response in areas where CNG fuel stations are not available.
CNG engines work similarly to gasoline and diesel powered engines, but operate at higher temperatures. Additionally, the infrastructure to support the natural gas systems uses a more complex technology. Thus, city staff received additional training to maintain the vehicles and equipment.
To support the conversion to CNG vehicles, the city expanded the administrative oversight of the fleet, including developing self-managed work teams to ensure the sustainability of the equipment. The city fleet division operates as a full-service fleet support service that provides equipment maintenance, repair, welding, and asset replacement. It also monitors and analyzes accidents and incidents involving city CNG vehicles.
The city owns and operates its own CNG fueling station to support the city fleet. Although CNG fueling stations are expensive, depending on the size and capacity required, the city takes advantage of grant funding and federal financial incentives that lower CNG fuel costs to make the system economical.
Funding for the vehicles and construction of the CNG fueling station was provided largely by regional and federal grants. In addition, the city saves about $1.2 million annually by using CNG instead of over 850,000 gallons of diesel fuel. Air quality benefits are significant.
The city received national recognition as the number one Government Green Fleet in North America in 2009, in part for its use of compressed natural gas.
Compiled June 2010
This case story was prepared with generous support from AAA Northern California, Nevada & Utah.
Related Links