Claremont Engages Volunteers and Students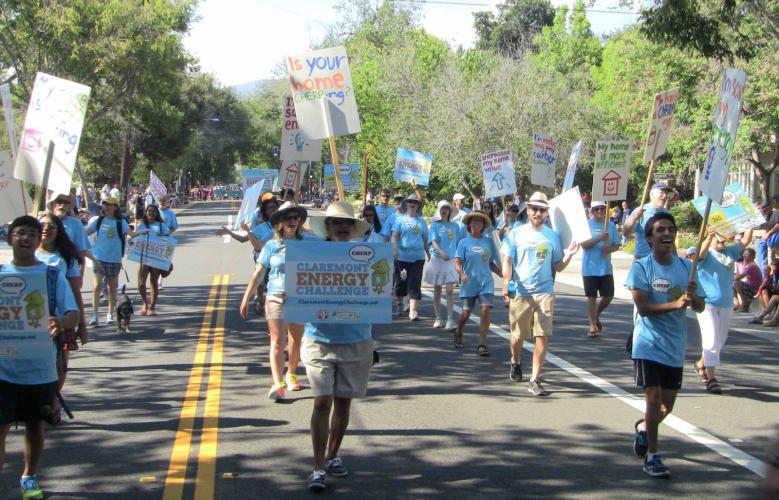 Like many of the communities, the City of Claremont says that the Georgetown University Energy Prize provides a platform to build upon its past efforts around energy efficiency and community engagement. Claremont launched a large public engagement effort in 2006 during its General Plan update in which sustainability became a major focus. Three years later, the city created the Claremont Sustainable City Plan and a new nonprofit, Sustainable Claremont, to help carry out some of the proposed programs and policies in both plans. The city provides some financial support to Sustainable Claremont. This support allows the organization to dedicate the necessary time and attention to coordinating large community-based efforts, such as the Georgetown University Energy Prize challenge. "Coordination is the key to make sure that we are all moving in the same direction," says Claremont's Principal Planner Chris Veirs.
Sustainable Claremont targets a broad cross section of its population, including college students who bring a unique energy to the city's efforts. Claremont is also working to appeal to the private sector by exploring the opportunity to build a solar panel fabrication facility that could create over 500 jobs and save Claremont residents over $6.5 million annually in utility expenses by providing energy-producing solar panels.
The community's efforts have increased participation in programs related to energy conservation and renewable energy. The City of Claremont's Georgetown University Energy Prize activities build on its prior engagement in state-run energy conservation programs like Energy Upgrade California. The city's per-capita participation in Energy Upgrade California remains about 20 times that of Los Angeles County. Claremont also boasts average energy savings of 28 percent per retrofitted home.
"We are certainly not going to stop after this competition," says Council Member Joe Lyons. "This is meant to be a sustained program that actually gains momentum as time goes on."
This story is part of a Western City article on the Georgetown Energy Prize. Click here to access the full article.
Related Links